Developing an e-Learning culture @ HRC
by
sam kennedy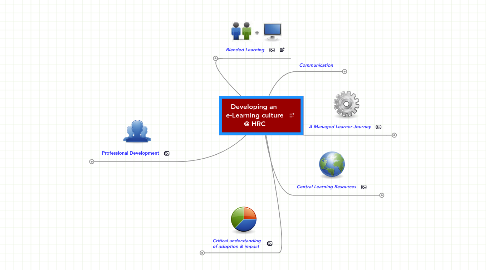 0.0
stars -
0
reviews range from
0
to
5
Developing an e-Learning culture @ HRC
HRC's new build is up. How do we develop an e-Learning culture across the College?
A Managed Learner Journey
MIS supports usage, monitoring and tracking of learners and their progress
Effective whole College system for agreeing/ revising targets
Assessment schemes are standardised!?
Central Learning Resources
Physical
Online
Blended Learning = A combination of face to face learning and planned online activity
Tutor
Learner
The VLE (MOODLE)
StudyNet (HE)
All tutors have a minimum e-learning skillset
Defined July 2009
Comprehensive training programme for all college systems
Opportunities/ expectations to share e-Learning practice
Whole College e-Learning Forums Departmental events
Peer and Online Support
Online material and case studies help staff to develop and learn from colleagues at an appt. time and in a convenient location
Critical understanding of adoption & impact
Learner feedback
Compare learner perceptions of the value of technology in their learning over time Polls and focus groups capture information as necessary to inform decisionmaking
Generator assessments
enables us to compare perceptions/ developments across the College
Gives us tutor vs student stats,
Course reviews
Focus on how e-Learning is used.
Communication
Personalisation
Progress Review
Clarity of expectations