Developing an e-Learning culture @ HRC
by
sam kennedy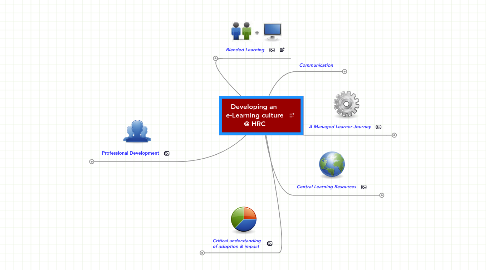 0.0
stars -
0
reviews range from
0
to
5
Developing an e-Learning culture @ HRC
HRC's new build is up. How do we develop an e-Learning culture across the College?
A Managed Learner Journey
MIS supports usage, monitoring and tracking of learners and their progress
Effective whole College system for agreeing/ revising targets
Assessment schemes are standardised!?
Central Learning Resources
Physical
Classroom SMART Board
Portable Netbook PCs
Other devices
Online
Fast, intuitive, 24/7 access, Collated and indexed in-house, External subscriptions accessed under HRC login, Individuals share resources across HRC
Blended Learning = A combination of face to face learning and planned online activity
Tutor
Learner
The VLE (MOODLE)
All FT and substantial PT courses have a MOODLE 'course' automatically
All MOODLE courses are used to at least a minimum standard, Contains SOW, Contains all presentations/ lesson notes and links, Contains all assignment briefs, Contains all homework tasks, 1 on-line activity (minimum)
Some MOODLE courses
StudyNet (HE)
Minimum: Modules contain all lecture notes and slides
Online submission of work
All tutors have a minimum e-learning skillset
Defined July 2009
Comprehensive training programme for all college systems
Opportunities/ expectations to share e-Learning practice
Whole College e-Learning Forums Departmental events
Peer and Online Support
Online material and case studies help staff to develop and learn from colleagues at an appt. time and in a convenient location
Critical understanding of adoption & impact
Learner feedback
Compare learner perceptions of the value of technology in their learning over time Polls and focus groups capture information as necessary to inform decisionmaking
Surveys, Startup, Mid-year, End of year
Focus groups
Polls, StudentNet, Course based (Moodle)
Generator assessments
enables us to compare perceptions/ developments across the College
Academic departments, Subject areas
Support departments, Staff Development, Teacher Training, ILT Support
Senior Management
Gives us tutor vs student stats,
Course reviews
Focus on how e-Learning is used.
Communication
Personalisation
StudentNet
StaffNet
Progress Review
Clarity of expectations
of Students by Staff
of Staff by the College