The Hub
by
Christopher Donohue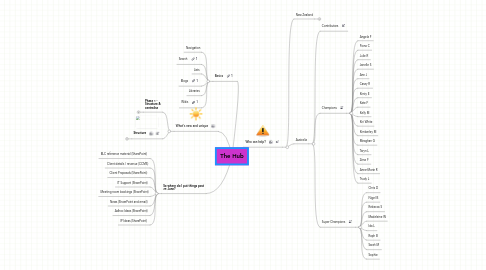 0.0
stars - reviews range from
0
to
5
The Hub
What's new and unique
Phase 1 - Structure & centralise
Proposals - centralisation
News - centralisation
IP - centralisation
Sydney meeting room bookings
BLC content - centralisation
IT Helpdesk requests
Profiles - centralisation
Structure
The SharePoint (Hub) structure has been specially designed to suit our business and to break any potential silos down either between teams or geographically.
Hub, Internal news, IP Posts, Adhoc ideas, Staff movements, Upcoming events
Share, Adhoc ideas, BLC content, Case studies, Internal news, Images, IP, IP Blogs/Ideas, Our Wiki, Recent proposals, Slide library of our models, Staff contacts and skills, Whitepapers
Action, Add internal news, Add adhoc ideas, Add new event, Add staff movements, Book a meeting room (Syd), Get to CCMS, Lodge a Helpdesk request, Lodge a Leave Form, View Payslips, Lodge Timesheets
Clients
Learn
Show
Groups, Dashboards, Information Technology, Knowledge Solutions, Projects
Fun
Search
Who can help?
Need a quick one-on-one or simply advice on SharePoint? You can refer to a Champion or Super Champion.
New Zealand
Contributors
Champions, Jo L, Maree G
Australia
Contributors
Champions, Angela F, Fiona C, Julie R, Janelle S, Ann J, Casey R, Kirsty E, Kate F, Kelly M, Kiri White, Kimberley M, Meaghan G, Taryn L, Zena F, Anne-Marie R, Trudy L
Super Champions, Chris D, Nigel B, Rebecca S, Madeleine W, Ida L, Raph B, Sarah M, Sophie
Navigation
Lists
Libraries
So where do I put things post 28 June?
BLC reference material (SharePoint)
Client details / revenue (CCMS)
Client Proposals (SharePoint)
IT Support (SharePoint)
Meeting room bookings (SharePoint)
News (SharePoint and email)
Adhoc Ideas (SharePoint)
IP Ideas (SharePoint)