Week 12 Discussion: Universal Design for Learning, Assistive Technologies for Students with Disabilities, and Supporting the Diversity of Learners
by Abby Morrow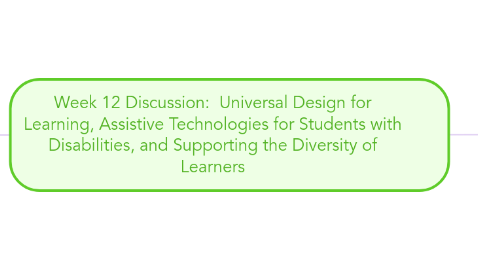 1. Challenges
1.1. Budget Concerns
1.1.1. "One thing that stood out for me was the challenge of providing services for students with disabilities while working with a budget and other constrictions"
1.1.2. It would be wonderful if the library could be everything to everyone, but librarians have to make so many decisions to stay within budget and space constraints.
1.1.2.1. how exactly does the school librarian weigh and ultimately make those kinds of decisions?
1.2. Invisible Illness
1.2.1. There is another category that some are not as aware of, more so in adults, and that is people who suffer from what is considered "invisible illness." In the school that is less of an issue because staff, including librarians, should have access to students' records, but not so in everyday life. In general, the public needs to be more aware of disability, especially with so many wounded soldiers, the prevalence of autism and other childhood special needs. and increased incidence of people suffering from invisible illness such as fibromyalgia and chronic pain.
1.3. Lack of knowledge of others' disabilities
1.3.1. in our school not even our specials teachers (gym, art, music, spanish) seem to know the specific needs of my special education students. They are not required to sit in on meetings or plan together with the special education teacher. Because of this I think that their job is more difficult, because they don't know how to meet the needs of the kids.
1.3.2. But how can we determine patrons with internal disabilities? Like who needs text to be read aloud to them? Who needs a special keyboard because of a motor deficiency? How could a librarian know that if the information is not shared with them explicitly from the patron or a parent?
1.4. Lack of special ed. training
1.4.1. I have had no educational training in spec ed...I am fortunate that all of the teachers are more than willing to explain their student's levels and needs with me.
1.4.2. I learned on the job about children with special needs, particularly Asperger's, and educated myself about the special needs of those children by doing research. Unfortunately, not all staff is as diligent.
1.5. Lack of resources for students with disabilities
1.5.1. The only accommodation I have seen in action for my students with special needs is the option to have some reading components read aloud to them if they cannot read yet.
1.6. Technology is purchased without researching it first
1.6.1. Technology or tools are purchased without doing the research first, and so many resources are discarded in a short time because they did not fit the needs of our school.
1.7. Where do public libraries fit in?
1.7.1. School librarians have the luxury of being able to speak with teachers and administrators who can provide valuable insights about our students with disabilities, but that information might not be readily shared at a public library. This makes adhering to policy on equity quite difficult for public libraries.
2. Possibilities
2.1. Universal Design (UD)
2.1.1. UD is meant to be common across public spaces, helping everyone to feel welcome and able to have access (Subraniam 3). This is, after all, the goal of any library: to provide access to everyone!
2.1.2. Because AT doesn't always have to mean strictly electronics or gadgets, it can also mean helping a student with a social disorder learn certain cues through storytime, or providing story workshops for students dealing with loss. The possibilities are endless.
2.2. Gain knowledge from teachers
2.2.1. I have learned a great deal about what is required to ensure their success in the general education classroom. In addition to taking professional development opportunities, working with my co-teachers has been the most informative experience.
2.3. Professional Development
2.4. Technologies and Special Formats
2.4.1. The articles this week discussed several accommodations technology should provide, such as transforming digital text into larger fonts, Braille, audio or speech formats, sign language, different languages, alternate keyboards, and supplementing text with pictures, recordings or videos (Downing, 73).
2.4.2. The story of Carly and how she used her computer to communicate was particularly moving and exciting...I can be quite pessimistic about technology, but I love to see technology being used to do such great things.
2.4.3. In a study the students that did not learn Braille were less organized, and unable to properly edit versus those students that did learn. Braille allows for a transition to participate in society. Although the creating of Braille books can be labor intensive, I don't think that it is the end
2.5. Surveys to determine needs for technology
2.5.1. Sending out informal surveys are a great way to gather data, and this would be another reason for public libraries to partner with local schools. Reaching the needs of special education students is not easy - it takes time, innovation, creativity and collaboration.