The Brain
by JASON SLOWEY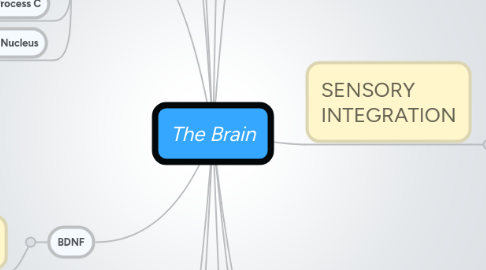 1. BDNF
1.1. STRESS
1.1.1. 3 Part Definiton
1.1.1.1. Measurable Pyschological Response
1.1.1.2. Desire to Avoid the Situation
1.1.1.3. A loss of Control
1.1.2. Effects
1.1.2.1. Memory and Problem Solving
1.1.2.1.1. Decreases
1.1.2.2. Cordiovascular
1.1.2.2.1. Scars Blood Vessels
1.1.2.3. Immune System
1.1.2.3.1. Lowers
2. _
2.1. Process S
2.1.1. SLEEP
2.1.1.1. During Sleep
2.1.1.1.1. Brain Repeats New Learning
2.1.1.2. Lack of Sleep
2.1.1.2.1. Decreased Working Memory
2.1.1.2.2. Decreased Executive Functions
2.1.1.2.3. Cripples Thinking
2.1.1.2.4. Increases Aging
2.1.1.2.5. Dcreases Insulin
2.2. Process C
2.2.1. Wants You to be Awake all the time
2.3. Suprachiasmatic Nucleus
2.3.1. Your Internal Clock
3. EVOLUTION
3.1. Cortex
3.1.1. Prefrontal Cortex
3.1.1.1. Executive Functions
3.1.1.1.1. SOLVING PROBLEMS
3.1.1.1.2. MAINTAINING ATTENTION
3.1.1.1.3. INHIBITING EMOTIONAL IMPULSES
4. EXERCISE
4.1. Increases access to Oxygen
4.1.1. MORE ENERGY FOR THE BRAIn
4.2. Increases Thinking Skills
4.3. Increases Cognitive Performance
4.4. Helps fight Depression
5. WIRING
5.1. Learning causes physical changes to the wiring
5.1.1. These Changes are Uniques to Individuals
5.2. Everyone's Brain is Wired Differently
5.3. A lot of the brain is wired to NOT be hard-wired
5.3.1. We are hard-wired to be flexible
6. ATTENTION
6.1. The more attention we give something, the better we will learn it.
6.2. 3 Networks
6.2.1. Alerting Network
6.2.2. Orienting Network
6.2.3. Executive Network
6.3. Multitasking is a Myth
6.3.1. Brain naturally focuses on things one at a time
6.4. More Attention to
6.4.1. Emotionally Charged Events
6.4.2. The gist of something, not the details
6.5. Only lasts 10 minutes...
6.5.1. Then you need to grab it again
7. MEMORY
7.1. Dcelarative Memory
7.1.1. Encoding
7.1.1.1. Initial moment of learning
7.1.1.2. Content is stored seperately from its Context
7.1.1.3. Involves all of the senses
7.1.1.3.1. Recreate the Environment, to remember better
7.1.2. Working Memory is the bridge between Encoding and Storage
7.1.2.1. Must be held there long enough, or will not store
7.1.3. Storing
7.1.4. Retrieving
7.1.5. Forgetting
7.2. Initial Moments are Vital
7.2.1. 90% of learning is gone after 30 days
7.2.2. This is why we must engrain the inofrmation as early as possible
7.3. Consolidation
7.3.1. Transforming Short Term to
7.3.2. Long Term
7.3.2.1. Can take years for information to be grounded in the Cortex
7.3.2.2. Best way to store is to repeat gradually over time
8. SENSORY INTEGRATION
8.1. Brain takes energies from our environment and
8.2. Converts info into Electric Language for the brain
8.2.1. Then it is routed to it's appropriate region for processing
8.2.1.1. Later it will Renconstruct the data into one
8.3. People interpret the same event differently...
8.3.1. Brain relies on past experience to recombine the data
8.4. Senses Work Together
8.4.1. Thalamus
8.4.1.1. Hearing
8.4.1.2. Touch
8.4.1.3. Taste
8.4.1.4. Sight
8.4.2. Smells
8.4.2.1. Bypasses the Thalamus
8.4.2.2. Boost Memeory by themselves
8.4.3. Best to combine them together for Memory
9. VISION
9.1. Most Dominant Sense
9.1.1. Uses half of our brain's resources
9.2. We see an opinion of what our Brain thinks is out there
9.2.1. The brain interpolates info coming from each eye, then supplies it's best guess
9.3. Pictorial Superiority Effect
9.3.1. More visual input = More likely to be recognized/recalled
9.3.2. Pictorial Information is much more attractive to people
9.3.3. The brain sees words as a bunch of tiny little pictures, which is not as attractive
10. MUSIC
10.1. We are hard-wired for Music at birth
10.2. Boosts Language Skills
10.3. creates Better Listeners
10.4. Boosts Spatiotemporal Skills
10.4.1. Ability to rotate 3D objects in your head
10.5. Improves Working Memory
10.6. Music Training Affects Aspects of Speech
10.7. Improves Social Skills
10.7.1. Better at detecting Emotion in Speech
10.7.2. Empathy Skills Improve
11. GENDER
11.1. The X Choromosome
11.1.1. Women have 2
11.1.1.1. One Serves as a Back Up
11.1.1.2. Blend of Mom's and Dad's
11.1.2. Men have 1
11.1.2.1. All from Mom
11.1.2.2. Y is very Small by comparison
11.2. Different Brain Sturctures
11.2.1. We don't if the structural differences have any significance though
11.3. Left Vs Right
11.3.1. At Rest
11.3.1.1. Men's Right Brain is more active
11.3.1.2. Women's Left Brain is more active
11.3.2. Women Activate the Left Hemisphere amygdala
11.3.2.1. Remember emotional details
11.3.3. Men Activate Right Hemisphere Amygdala
11.3.3.1. Remember the gist
12. EXPLORATION
12.1. We Are Powerful Natural Explorers
12.1.1. Babies are the perfect Model
12.1.1.1. They actively test their environment
12.1.2. We are Hard-wired to be this Way
12.1.2.1. Goes back to Evolution
12.1.2.2. Right Prefrontal Cortex checks our Hypotheses
12.1.2.3. Another Region tells us to change the behavior
12.2. Mirror Neurons
12.2.1. Allow us to recognize and imitate behaviors form our environment
12.3. Hard-Wired to be Flexible
12.3.1. Parts of Adult's brains stay as malleable as baby's
12.3.2. This way we can create neurons and continue learning throughout our lives