Jeremy Atticus Finch
by Felix Murray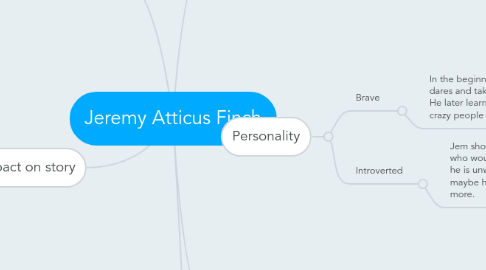 1. Background
1.1. Jem is Scout's brother and constant playmate at the beginning of the story. Jem is something of a typical American boy, refusing to back down from dares and fantasizing about playing football. Four years older than Scout, he gradually separates himself from her games, but he remains her close companion and protector throughout the novel.
2. Personality
2.1. Brave
2.1.1. In the beginning of the book Jem thinks bravery is all about dares and taking on challenges like touching the Radley place. He later learns more about bravery from seeing Atticus face crazy people in court.
2.2. Introverted
2.2.1. Jem shows he is the more introverted member of the Finch family, unlike scout who would be more willing to fight or chat back. Jem shows his shyness when he is unwilling to talk to jem as he doesn't want to become embarrassed or maybe have to answer questions from his friends if he were to talk to her more.
3. Events
3.1. Some events that Jem Finch is in are trying to get Boo Radley to come out of his house, when Scout puts Walter Cunningham's face in the dirt. page 24 "Catching Walter Cunningham in the school yard gave me some pleasure, but when i was rubbing his face into the dirt Jem came by and told me to stop."
4. Impact on story
4.1. Jem had a big impact on the story as he is the older brother to Scout. He often showed scout acts of bravery and took action on certain situations earlier than Scout may have. For example Jeremy was faster to put what had happened at the court behind him faster that Scout.
5. Where does Jem belong?
5.1. Jem is part of the Finch family being scouts older brother, playmate and equal. Although a little later on when jem and Scout start school we start to see him exclude Scout and not talk to her as much as he doesn't want to be embarrassed in front of his older 5th grade friends. This is where we see Jem as the older brother rather than the equal brother to Scout.
6. Textual issues and concerns
6.1. Jem moves into adolescence during the story, and his ideals are shaken badly by the evil and injustice that he perceives during the trial of Tom Robinson. page 240 "But i think a defendant's entitled to the shadow of a doubt. There's alway a possibility, no matter how improbable, that he's innoncet. "
6.1.1. Other concerns that Jem has an effect on the theme of "growing up" and of "racial prejudice." A quote that shows Jem growing up is page 24 when scout catches Walter Cunningham, "Catching Walter Cunningham in the school yard gave me some pleasure, but when i was rubbing his face into the dirt Jem came by and told me to stop." quote that shows Jem doesn't like Racial prejudice is when they are at the court case and jem says "But i think a defendant's entitled to the shadow of a doubt. There's alway a possibility, no matter how improbable, that he's innoncet." on page 240