Web 2.0 in the CS Classroom
by
Peter McAsh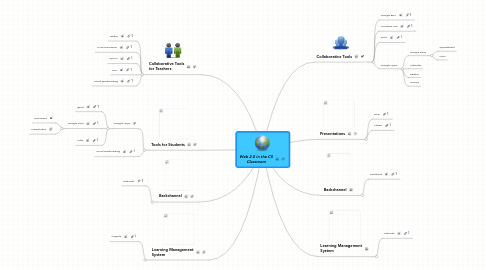 0.0
stars -
0
reviews range from
0
to
5
Web 2.0 in the CS Classroom
Presentation for CEMC Summer Institute - August 2010 The nodes to the left of this diagram are the Web2.0 tools that I used during the 2009-2010 school year in my various ICS classes. The nodes to the right of this diagram are alternative Web2.0 tools and/or tools that I have plans to use during the 2010-2011 school year. Peter McAsh St. Marys DCVI email: petemcas@amdsb.ca Twitter: @pmcash blog: http://dcvi.typepad.com/mcash (starting Sept. 2010)
Collaborative Tools for Teachers
Tools for use by the teacher primarily for professional development, collaboration with colleagues.    
Develop a PLN of other educators.  It takes time, but it is worth it.  Twitter is my main source of PD.
A Google Group hosted by ACSE for discussion of topics of interest to Computer Studies Teachers.  
Real-time collaborative text development.  Work with other educators (or your students).
RSS - Really Simple Syndication Subscribe to a variety of educational feeds.  RSS reader software assemblies summaries of the feeds with links to the full site.
Bookmark sites using a collaborative website bookmarking service. Share your bookmarks with colleagues, and your students.
Tools appropriate for students to use individually, and collaboratively.
Google Apps
Cloud Computing.  A suite of applications, with online storage, that is available to individuals at no cost.  
Bookmark sites using an online bookmarking website.
Presentations
Alternatives to the standard "power point slide show" format.
Learning Management System
An integrated software package to assist with the delivery of course content.
An online environment that provides a variety of classroom / lesson tools, e.g. daily outline of activities, assignments, etc. NOTE:  Cognite is a commercial product available only in the US.  I was involved with the beta testing of the product.
Backchannel
Backchanneling is the process of using online software to comment / discuss with others while a presentation is in process. I adapted the backchannel concept and encourage students to post questions / comments after the lesson.  I also posted additional information about lesson topics and ideas related to the course content (outside of the course LMS).
Collaborative Tools
Tools that can be used by the teacher and / or students.
Google EDU allows for an entire school / district to have greater control of the Google Apps that students / staff access. St. Marys DCVI (part of AMDSB) will provide a Google EDU account for every student and teacher starting September 2010.
Microsoft's recent entry into the Cloud Computing arena.  Online versions of Word, PowerPoint, Excel, email, online storage. Live EDU is available and is similar to Google EDU.
Cloud computing alternative - word processing, spreadsheet, presentation, etc.
Google Apps
I will be replacing Cognite with Edmodo for the 2010-2011 school year. I will continue to use Edmodo as the modified backchannel for the course.
Backchannel
Why not go where the kids are? Link is to a Teacher's Guide for the use of Facebook - a must read if you plan to use Facebook with your students.