Orange County BOE-Positive Measures to improve the Educational Community of Orange County Florida.
by
Maria Conrad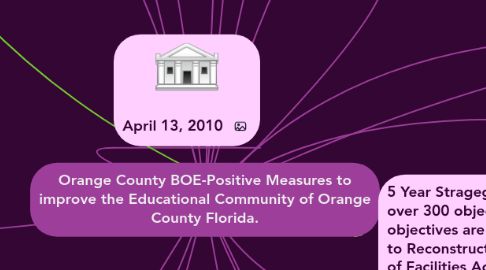 0.0
stars - reviews range from
0
to
5
Orange County BOE-Positive Measures to improve the Educational Community of Orange County Florida.
Superintendent Blocker reminds the board of the importance of working quickly on the building projects due to the window of opportunity closing. Apparently they are in a unique situation with the exemptions and their capital improvement plans that will expire on July 1, 2010. (PL)
The OC school district was able to obtain exemption from the State Board of Education approval process for demolition of educational facilities. This waiver is saving OC millions of dollars in project costs. 44 Buildings out of 556 evaluated in the district qualify for demolition under this waiver due to inefficient materials such as leaky windows, roofs, and other materials beyond repair. Once demolished new facilities will be rebuilt on the same property. (JF)
Wavier Criteria included four categories, Life Cycle Cost, Life Safety (which the conditions in the previous idea fall under), Total Cost, and Site Condition (rebuild on the same site or demolish and rebuild on another site). (JF)
In my interpretation of events, I did not hear anyone present the way that the building were going to be worked on. I am curious if there was criteria in the idea of choosing which building to start the rennovation project with. I was also concerened about where they were putting the students in the meantime and IF they would be moving them at all- and what the plan of action would be to limit the disruption of learning while the rennovations took place. (MC)
Board Member Rick Roach (District 3) (MC)
piggybacked FLYNN, and brings up valid part about the students and the considerations that may or may not come into play, for the school sytems to be fully supported and fully recognized for the students who are homeless. (MC)
Seems very sympathetic to the good intentions behind all of the proposals and is very complimentary of the people involved in them. (PL)
Chairman Joie Cadle (District 1) (MC)
Calls to order meeting, introductions of scholar athlete to lead pledge to the flag and moment of silence (shows support for students and congratulates their achievements) Board member seems attached to students and goals rather than just some high power who dictates policy and mandates its conformity. (MC)
Maria Conrad- contributes all comments in bright purple.  
Superintendent of Schools Ronald Blocker (MC)
introduces , Bob Proie (RN), Chief Facilities Officer brief for review of Castaldi Analysis through the Capital Projects Updates- discusses the quality classroom project. Made within budget, 30 new or additional school, 44 comprehensive rennovations 35 projects in the pipeline, which euals 1 billion in capital spending. Employes 900 construction workers within the community. (MC)
Chairman Cadle made a point that one area the board needed to start working on is generating a search for a new Superintendent to replace Blocker. She made it clear that he has big shoes to fill and that they are sad about his decision to retire in 2012. (JF)
Board Member Nancy Robbinson (District 6) (MC)
Board Member Vicki Bell (District 4) (MC)
Critcal of error on paper- superficial, sort of inappropriate for a meeting to call someone out on a grammar error- mistakes do get made, her comments seemed petty regarding the laws- other board members tried to go around it and make it light hearted but i found it sort of mean spirited when speaking to the addressee. She was also very critical of reading the laws and proposal for having homeless children enter the schools. (MC)
Mrs. Bell seems quite proud of herself for pointing out slight gramatical errors and disputing language of the actual document. This bring the meeting to a grinding halt. (PL)
Vice Chairman Daryl Flynn (District 2) (MC)
Much more empathteic in response to the homeless issue about students, she seemed more concerend and respectful in questioning the proposal. (MC)
April 13, 2010
Board Member Kathleen Gordon (District 5 ) (MC)
Very intersting how she was very concerened about the community in terms of homeless and how reform will impact their lives. Dialouge continued from Superintendent Blocker about the dropout problem but more importantly the drop in, and that it is important the Board still has an outreach with the homeless, from the students and other parties involved with the school (MC)
Board Member Gordon expressed her happiness for pushing the reconstruction plan forward with the exemptions when community went against the plan. She said, "It's not about the property, but about the facility on the property." (JF)
Board Member Christine Moore (District 7) (MC)
5 Year Stragegic Plan - Includes over 300 objectives- Within those objectives are several in relation to Reconstructing the Efficiency of Facilities Across the the County's 7 Districts (JF)
Orange County is in the process of executing a 5 year plan that involves the demolition and rebuilding of numerous school facilities across the county. Many projects have already been completed and many more are in the works. (JF)
Educating the Homeless in Orange County - Public Hearing Topic
Currently there are over 3,000 homeless students enrolled in schools across Orange County. (JF)
This amount of homeless youth has doubled since the 2007-08 school year. This is a good thing and a bad thing. It is a good thing because OC has been able to locate and enroll this many homeless youths. By federal regulations including NCLB, districts are bound to providing homless youths with a free and equal education. This also includes free lunch and transportation. Another positive is that OC has identified and reached out to this many children in need. The bad side to this is that there are over 3,000 students in OC that are homeless. That only cracks the surface to the actual amount there is in OC. Also, this is only one school district, in one state, in the entire country! (JF)
No person present from the public chose to comment on this topic. (JF)
Superintendent Blocker calls Margaret Tilly, from the Curriculum department, to present the Homeless Education Policy to be approved at this meeting. (PL)
House version represents $39.90 per student reduction from current funding level in surrounding districts. They have been levied under the additional millage. Levy divided by the districts' total equalized assessed value= tax rate. (FB)
The Critical Needs Optional Millage of 0.25% is crucial to generate $22 million for FY2011. It will be used for Capital needs and operations. It requieres approval my the super majority and continuity will be upon Referendum.(FB)
OCPS Board recognizes with concern the impact current financial meltdown, not been selected in phase 1 RTT and decreasing property value may have on educational programs and operations in the district. node(FB)
Non Consent Emergency Items / Request approval of the Inclusion of the Critical Needs Optional Millage in the Budget Develop. Process 2010-11(FB)
A. House budget assumes 96% collection rate for property taxes, Senate 95%. B. Senate assumes all districts levy the optional 0.25 mills, House assumes only those who levied in FY2010 will continue. C. House version represents $39.90 per student reduction from current funding level / Senate $61.38. D. Requires 0.25% contribution by employees for Florida Retirement System.(FB)
The Board is responsible for mantaining fiscal integrity and at points it needs to make tough decisions to assure continuity of educational quality programs. OCPS Board is clearly concerned about the projected fiscal situation. The state of Florida unsuccessfully competed in RTT. OCPS does not believe Florida will run in the phase 2. The increase in property value represents funding coming in per student. Using critical needs may be a desperate move but the Board seems determined in safe guarding educational programs that benefit students. Critical needs optional millage will minimize impact on schools and will not eliminate staffing.(FB)
Even though, the OC BOE is a public event that affects the local district community, there are some matters that are kept confidential: Students' disciplinary issues and employees' matters. The public is invited to voice their opinion by submitting a request. He or she will be included in the agenda. (FB)