From my Feedback, I can conclude that my media project has a very wide target audience - as follows;
by Hannah Dryden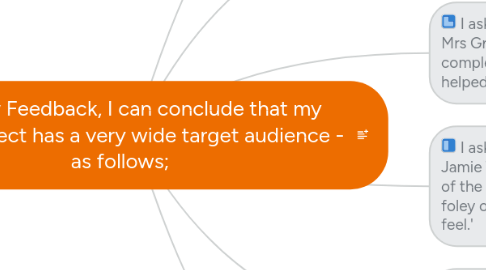 1. From my previous collection of data and audience research, I estimated that my film would be appealing to a range of ages, 16-34 - and possibly older. I had a group of people watch the final draft of my film, of ages up to 16 - 43. And I asked them a variety of questions.
2. I asked: 'What features of the film gripped and enticed you?' - Mrs Gregory, aged 34- 43; 'For me, the radio announcement completed the theme of the the epidemic sub genre, and it helped the audience understand the overview of the film.'
3. I asked: 'Did you think the foley and the music worked well?' - Jamie Walker, aged 16; 'The foley worked well, especially the sound of the tap dripping which added tension - however I think that if the foley of tap was slightly quieter it would of created a more eerie feel.'
4. I asked: 'Did the film have a fear factor?' - Ellie Notman, aged 17; 'Slightly, the blood coming out of the eyes was creepy - and the montage worked well to show that a mass had died for this unknown disease - however I feel the music added significantly to the fear/tension in the film.'
5. I asked, 'From watching my opening sequence, would you be intrigued to watch the rest of the film? - Andrew Green, aged 46; 'Yes I would be, I am a fan of realistic movies and I feel your opening sequence definitely gave a sense of realism. The mystery surrounding the four characters at the end is also interesting, and I would like to see what happens to them in the the rest of the movie, the rural setting helped contribute to the realism that was portrayed through out.'
6. I asked: 'Did the chronological order of my film portray a clear understanding and continuity in my opening sequence?' - Joshua Biggins, aged 24; 'Yes, the radio announcement at the beginning set the tone for the rest of the scenes, and the cuts like 'nine days later' definitely helped set a clear time zone and a better understanding of what was going on'.