The Internet & You
by
Tom Bridge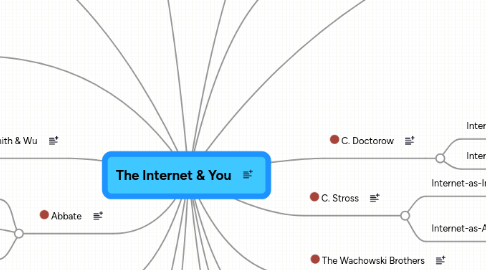 0.0
stars -
0
reviews range from
0
to
5
The Internet & You
[JA] I added some sample entries. Blue dots indicate thematic branches; orange dots are author branches. Which seems more effective? [TB] Green dot for Internet Community is a nebulous combination.  It's both Authors AND concepts.
Kalathil & Boas
Non-Fiction Writer
Policy
Global/Comparative
User focus
Internet Policy
Lessig
Kalathil & Boas
Goldsmith & Wu
"Network Neutrality"
COPPA
DMCA
Copyright Extensions
Cyberculture
Rheingold
Gibson
Kitchen
Abbate
Non-Fiction Writer
History
Social construction
User focus
Internet Communities
Annette Markham
Author of Life Online, an ethnography of early online communities
Rheingold
Howard Rheingold, author of Smart Mobs and Online Community.  
Jane McGonigal
PhD, UC Berkeley.  Covers gaming communities focused around puzzle games. www.avantgame.com
Internet "Authorities"
Rheingold
Non-Fiction Writer
History
Community focus
History-as-Narrative
W. Gibson
Fiction Writer
Internet-as-Community
Internet-as-Place
Internet-as-Metaphor
N. Stephenson
Fiction Writer
Internet-as-Business-Market
The Network is the Technology
The Network brings forth its own Heroes
Licklider & Taylor
Non-fiction Writers
Early pioneers of Network thinking
User Focus
Visionary
Goldsmith & Wu
Non-Fiction Writers
History/Policy
Lexicological Focus
Market Focus
The Wachowski Brothers
Fiction writers
The Matrix
R. Heinlein
Moon is a Harsh Mistress
C. Stross
Fiction Writer
Internet-as-Infrastructure
Internet-as-Attack-Vector
C. Doctorow
fiction writer
Internet-as-place-substitute
Internet-as-market
Internet-as-Market
eCommerce
New Methods of Delivery
A New Marketplace
Regulation concerns
Goldsmith & Wu
Speech Medium
Kalathil & Boas
Leads to Internet Policy
Communication Technology
Packet Switching, History of
Topological considerations
Development cycle of