How to make a video game? (to get you started)
by Andy Forero ortiz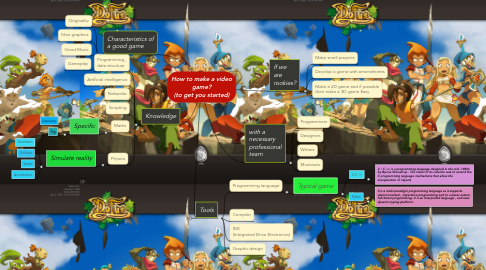 1. If we are rookies?
1.1. Make small projects
1.2. Develop a game with amendments
1.3. Make a 2D game and if possible then make a 3D game Easy
2. with a necessary professional team
2.1. Programmers
2.2. Designers
2.3. Writers
2.4. Musicians
3. Tools
3.1. Programming language
3.1.1. Typical game
3.1.1.1. C/C ++
3.1.1.1.1. C / C ++ is a programming language designed in the mid -1980s by Bjarne Stroustrup . The intent of its creation was to extend the C programming language mechanisms that allow the manipulation of objects
3.1.1.2. Python
3.1.1.2.1. It is a multi-paradigm programming language as it supports object-oriented , imperative programming and to a lesser extent, functional programming. It is an interpreted language , and uses dynamic typing platform .
3.2. Compiler
3.3. IDE (Integrated Drive Electronics)
3.4. Graphic design
4. Knowledge
4.1. Programming , data structure
4.2. Artificial intelligence
4.3. Networks
4.4. Scripting
4.5. Maths
4.5.1. Specific
4.5.1.1. Geometry
4.5.1.2. Trig
4.6. Physics
4.6.1. Simulate reality
4.6.1.1. Gravitation
4.6.1.2. Collisions
4.6.1.3. Speed
4.6.1.4. Accelerations
5. Characteristics of a good game
5.1. Originality
5.2. Nice graphics
5.3. Good Music
5.4. Gameplay