Work SMARTER Not Harder
by
Helen Baxter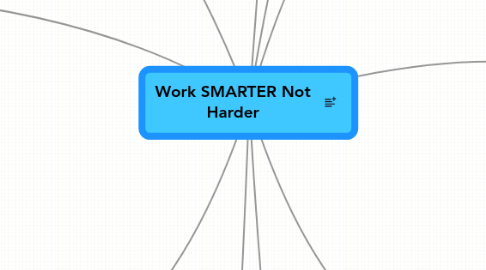 5.0
stars -
12
reviews range from
0
to
5
Work SMARTER Not Harder
Workshop by Helen Baxter of Mohawk Media at Survive & Thrive, Auckland 2010.
Helen Baxter - MD
studio@mohawkmedia.co.nz
http://www.mindmeister.com/54884678/work-smarter-not-harder
Strategy
Where?
In your wildest dreams
Why?
What motivates you?, Independence, Family, Money, Prestige, Fulfilment
When?
Set some milestone dates
How?
Key steps to achieve
How do you dig a hole?
Plan your approach
Strategy then tactics
Action
Management
Measurement
What, How, Who
Mapping
Action Plan
What, when, who
Write it down
Share
Online Collaboration
Automate or Delegate?
Batch Task Processing
New Biz, emails, invoicing
Rocks v Pebbles
Attitude
Lazily Productive
Nothing is perfect
Avoid Interruptions
Say No
Work when is best for YOU!
Be clever with the time you have
Value your time
Design your time
Re-cycle, re-use re-mix
Things
Ideas
Research
Be realistic: cheap, fast or good - pick 2/3
Stay flexible, agile, lean
Relationships
Get Social
Facebook for friends & events
Events & Pages
Linked In for business
Groups & Networks
Twitter for everyone else
Follow & search
Access to Knowledge Networks
Dear Lazyweb ...?
Meetings
Face to Face
Text
Videconferencing
Invest time connecting
Toolkit
Tasks
Pocketmod
Basecamp, Free account
Team Work PM, Free plan - 2 projects, More sophisticated than Basecamp
Planning
Plan Hq
Time
Rescuetime
Doodle
Money
Xero
People
Flexitime Payroll
Media Monitoring
Twitter
Google Alerts
Files
GDocs
DropBox
Social Media
Hootsuite
Knowledge
Diigo Groups
Feedly
Mindmeister
Talk
Google Chat
Skype
Videconferencing
Skype Beta
Dim Dim
Oovoo
Freebinar
Environment
Efficient
Organised
Places for everything
Clear clutter
Don't multi-task
Be relaxed
Be Creative
Plan for Flowtime
Results
Maximum Results Minimum effort
80/20 rule
Set Goals
SMART
Lean, productive & profitable
Launch early, always iterate
More
The MsBehaviour Files
the g33k show
Lifehacker