Drive: The Surprising Truth About What Motivates Us
by
Egil Mosbron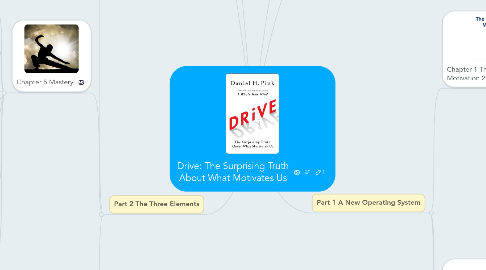 5.0
stars -
5
reviews range from
0
to
5
Daniel H. Pink (Author)
Kindle
Publication Date: April 5, 2011
Amazon description: Forget everything you thought you knew about how to motivate people—at work, at school, at home. It's wrong. As Daniel H. Pink (author of To Sell Is Human: The Surprising Truth About Motivating Others) explains in his paradigm-shattering book Drive, the secret to high performance and satisfaction in today's world is the deeply human need to direct our own lives, to learn and create new things, and to do better by ourselves and our world. Drawing on four decades of scientific research on human motivation, Pink exposes the mismatch between what science knows and what business does—and how that affects every aspect of our lives. He demonstrates that while the old-fashioned carrot-and-stick approach worked successfully in the 20th century, it's precisely the wrong way to motivate people for today's challenges. In Drive, he reveals the three elements of true motivation: *Autonomy—the desire to direct our own lives *Mastery—the urge to get better and better at something that matters *Purpose—the yearning to do what we do in the service of something larger than ourselves Along the way, he takes us to companies that are enlisting new approaches to motivation and introduces us to the scientists and entrepreneurs who are pointing a bold way forward. Drive is bursting with big ideas—the rare book that will change how you think and transform how you live.
Video
Introduction: The Puzzling Puzzles Harry Harlow Edward Deci
We kick off with the stories and experiments of Harry Harlow and Edward Deci. Harlow's experiment (lab monkeys solving a puzzle) produced a theory–what amounted to a third drive: "The performance of the task," he said, "provided intrinsic reward. … The joy of the task was its own reward."
The monkeys solved the puzzles simply because they found it gratifying to solve puzzles. They enjoyed it. The joy of the task was its own reward.
"When money is used as an external reward for some activity, the subjects lose intrinsic interest for the activity," he* wrote. Rewards can deliver a short-term boost—just as a jolt of caffeine can keep you cranking for a few more hours. But the effect wears off—and, worse, can reduce a person's longer-term motivation to continue the project. ========== *Edward Deci
"This is a book about motivation. I will show that much of what we believe about the subject just isn't so–and that the insights that Harlow and Deci began uncovering a few decades ago come much closer to the truth.
Part 1 A New Operating System
Chapter 1 The Rise and Fall of Motivation 2.0
Chapter 2 Seven Reasons Carrots and Sticks (Often) Don't Work…
Chapter 2A …and the Special Circumstances When They Do
Chapter 3 Type I and Type X
Part 2 The Three Elements
Chapter 4 Autonomy
Chapter 5 Mastery
Chapter 6 Purpose
Part 3 The Type I Toolkit
Type I for Individuals: Nine Strategies for Awakening Your Motivation
Type I for Organizations: Nine Ways to Improve Your Company, Office, or Group
The Zen of Compensation: Paying People the Type I Way
Type I for Parents and Educators: Nine Ideas for Helping Our Kids
The Type I Reading List: Fifteen Essential Books
Listen to the Gurus: Six Business Thinkers Who Get It
The Type I Fitness Plan: Four Tips for Getting (and Staying) Motivated to Exercise