Mind Mapping
by
Denis Chmel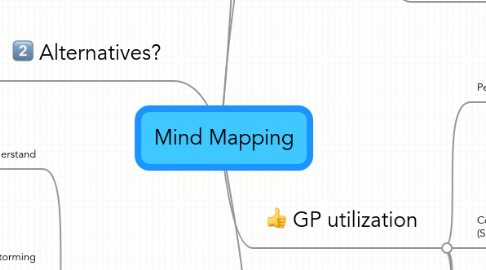 3.7
stars -
3
reviews range from
0
to
5
Mind Mapping
Tools
Offline
Freemind, + Java (platform independent) + Wikis integration + Powerful / light weight - Problems with usability
Mindjet MindManager, + Very fast/usable + Group selecting/actions + Cross-dependencies + Images, file attachments/links + Powerful + Integration with MS Office - Win/Mac only - Licence 350$
Online
bubbl.us, + Friendly zooming + Coloring - Bad group editing
mindmeister.com, + Cool group editing + Items folding + API (to interact with anything else) + Import from Freemind / MindManager, Full version ($4 per month): + Export maps in FreeMind and Mindjet Mindmanager™ format + Full SSL encryption + Offline edit mode, hangs for 30 sec sometimes (rarely)
comapping.com, + Group editing + Node focusing + Internal presentations/slides + Task management - Fixed orientation (left to right) - no free account ($25 per year)
Pen and paper
What's for?
Understand
Project, To do, Scope
Life positioning
Brainstorming
Startup ideas
Stress-test (what if...)
Whatever in future
Tree info
Company structure
Site map, Intranet restructurization
Genealogy
Troubleshooter
Folders structure
Generate nice artwork
Alternatives?
Much of plain text
SWOT
Big tables
Features
Way of thinking
Clear overview
Intuition mobilization
Accessible (pen and paper)
Allows to quick overview
Want know details? Expand
GP utilization
Personal
Prepare to talk with boss/customer
Prepare a seminar
Planning..., Trip, birthday, vacation, Self-improvement, Life
Concurent thinking (Skype + Online tool)
Brainstorming (i.e. what else), Future seminars, Project opportunities, Profitable ideas
Map of discussion (real-time updated), Telepathy - comunication of thoughts, Unanswered questions, Unclear areas, "too technical" topics
GP Documentation
Project planning, Task1, Task2, Task 3, Task4, Task 5, per node email notifications
Roadmap
Tree data
GP Services
modern business tool?
GP Intranet
bookmarks