Synchronous Audio/Video Meetings to Promote Student Engagement
by Rodney Spurling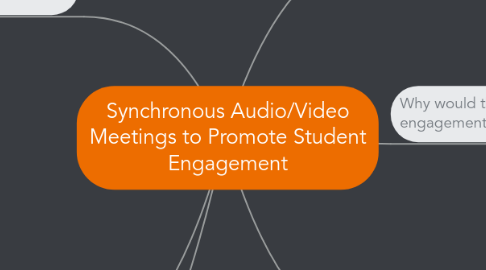 1. Why would this promote engagement?
1.1. Ability to engage in discussion / debate
1.1.1. Promotes outside the box thinking
1.2. Better teacher presence
1.3. Chance to ask questions and get answeres in real time
1.4. More personal and engaging when audio/video is involved or real time chat.
1.4.1. Ability to put a voice or face to a name
1.5. Feel more connected
2. What problems could this encounter?
2.1. Inability to come to meeting
2.1.1. Solution: Record sessions and use forum discussion for people that were unable to attend.
2.1.2. Solution: Don't grade attendance
2.2. Lack of camera/microphone
2.2.1. Solution: Use of a chat feature
3. Resources
3.1. Johnson, S. D., & Aragon, S. R. (2003). An instructional strategy framework for online learning environments. New Directions For Adult & Continuing Education, 2003(100), 31-43.
3.2. Faculty Focus Special Report: Online Student Engagement Tools and Stratigies. (Multiple articles)
3.3. Dixson, M. D. (2010). Creating effective student engagement in online courses: What do students find engaging?. Journal Of The Scholarship Of Teaching & Learning, 10(2), 1-13.
3.4. Wankel, C., & Blessinger, P. (Eds.). (2013). Cutting-edge Technologies in Higher Education, Volume 6G : Increasing Student Engagement and Retention in e-Learning Environments : Web 2.0 and Blended Learning Technologies. Bradford, GBR: Emerald Group Publishing Ltd.
3.5. Muilenburg, L. Y., & Berge, Z. L. (2005). Student barriers to online learning: A factor analytic study. Distance Education, 26(1), 29-48.
3.6. Hrastinski, S. (2008). Asynchronous & Synchronous E-Learning. Educause Quarterly, 4, 51-55. Retrieved from https://net.educause.edu/ir/library/pdf/eqm0848.pdf
3.7. Arbaugh, J. B., & Eom, S. B. (2011). Student Satisfaction and Learning Outcomes in E-learning : An Introduction to Empirical Research. Hershey PA: Information Science Reference.
4. How could you do this?
4.1. Skype
4.2. Youtube live
4.2.1. Un-intended participants
4.2.2. Possible security issues?
4.3. Adobe Connect / Web conferencing software
4.3.1. Instructor has lots of tools/options to promote engagement in different ways
4.3.2. It's already a part of AMU
5. Example of this already working?
5.1. Case study conducted for online PBL classes
5.2. While I can't find specific schools that do this (my experience with other schools is zero). I've found numerous papers and journals that discuss the benefits of a blended learning environment. Basically, both synchronous and asynchronous learning environments.
5.3. Khan Academy
5.3.1. Not scheduled meetings, but mostly interactive and video based.
6. Define "Synchronous" and "Asynchronous" learning
6.1. Asynchronous learning: advantages and disadvantages
6.2. Synchronous learning: advantages and disadvantages