Roe TWC301
by
James Roe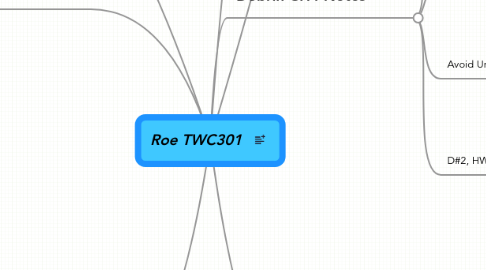 0.0
stars -
0
reviews range from
0
to
5
Roe TWC301
TWC301 Reading Notes
Characteristics of technical and professional communication
Rhetorical
Audience
Technology oriented
Ethical
Research Oriented
Professional
Visual
Design centered
Concise
Dobrin CH1 Notes
D#1, HW 14
Problem Solving Approach (PSA)
D#1,HW14 HTW
Dobrin CH2 Notes
Thinking Rhetorically
D#2,HW2 Web Resources
Dobrin CH3 Notes
The purpose of this chapter is to describe the current computer technologies used to create, revise, and disseminate workplace documents and to communicate and collaborate electronically. When collaborating ensure there is discussion and agreement on the program or operating system.
Creating Documents
Collaborating and Communicating
The Future of Workplace Writing and Computer Technology
D#2,HW3 HTW Notes
Dobrin CH4 Notes
Ethics and the Workplace Writer This chapter is specifically about the choices writers make in conveying accurate, honest information, which we call "ethical choices".
Ethics
  A code of conduct that helps individuals determine what is right and what is wrong.  
Ethical Guidelines for Workplace Writers
Avoid Unethical Writing
D#2, HW4 Web Resources
Dobrin CH5 Notes
D#3, HW3
Key Points of Difference
Understand that you can never get the full picture.
avoid stereotyping
never assume, ask questions, collaborate with a translator
Enhance Translation
terminology, clarity, cultural and rhetorical differences, design
Guidelines for Writing for Transnational Audiences
D#3,HW3 HTW Notes
Dobrin CH7 Notes
D#3,HW4
D#3,HW4 HTW Notes
Predrafting Strategies
Types of Organizing
Writing the Draft