ENGLISH CICLO III
by Werner Alvarez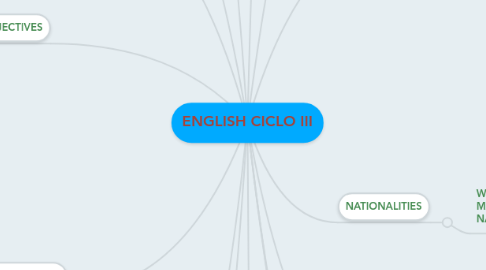 1. EX . HE IS WEARING A WHITE SHIRT, BLUE PANTS AND BLACK SHOES
2. IN SPANISH IT MEANS HAY, (WE USE ONE FORM FOR SINGULAR AND PLURAL) IN ENGLISH IS DIFFERENT, THEY HAVE ONE FORM FOR SINGULAR THERE IS AND ONE FORM FOR PLURAL THEY ARE.
2.1. EX. SINGULAR: THERE IS AN APPLE ON THE TABLE
2.2. EX. PLURAL: THERE ARE FIVE PEOPLE IN THE STORE.
3. SPELLIN VERB
3.1. TO ARISE. TO BECOME, TO CHOOSE, etc
3.1.1. THE VERB MAKE ENGLISH DIFFICUL FOR SPANISH SPEAKER, BECAUSE OF THE TIME OF THE VERB,. PRESENT, PAST, PAST PARTICIPLE, IN SPANISH IS MORE STRIEGHT FORWARD TO MAKE THIS FORM OF THE VERB.
4. IMPORTANCE OF THE NUMBER.
4.1. VERY IMPORTANT TO KNOW EVEN BETTER IF WE KNOW THE NUMBER BY HEART, BECAUSE ENGLISH IS CONSIDERED THE UNIVERSAL LANGUAGE, IT WILL BE GOOD TO KNOW TO WRITE AND PRONOUNCE THE NUMBER
5. THE VERB TO BE
5.1. THE MOST IMPORTANT VERB IN ENGLISH, IT HAS MANY USAGES AND MEANING , AS A MAIN VERB AND AS AN AUXILIARY VER. THE VERB TO BE MEANS IN SPANISH SER O ESTAR.
5.1.1. TO BE,FORM
5.1.2. I AM
5.1.3. HE, SHE, IT IS
5.1.4. WE, YOU, THEY ARE
5.1.5. PAST OF THE VERB TO BE
5.1.6. I, HE, SHE, IT WAS
5.1.7. WE, YOU, THEY WERE
6. SUBJECT PRONOUN
6.1. SINGULAR PRONOUN
6.1.1. I, YOU, HE, SHE, IT
6.2. PLURAL PRONOUN
6.2.1. WE, YOU, THEY.
7. NATIONALITIES
7.1. WE LEARN THAT WE HAVE MANY COUNTRIES AS NATIONALITIES.
7.1.1. COUNTRY JAPAN: HE LIVE IN JAPAN, HE IS JAPANESE, HE SPEAKS JAPANESE, Country:
8. POSSESIVE ADJECTIVES
8.1. POSSESIVE ADJETIVES ARE USED TO SHOW OWNERSHIP, THAT SOMETHING BELONGS TO YOU, HE, SHE, IT, THEY, WE,
8.1.1. POSSESIVE ADJETIVES
8.1.2. MY, YOUR, HIS, HER, ITS, OUR, YOUR, THEIR
9. PRSENT CONTINUOUS
9.1. WE USE THE PRESENT CONTINUOUS WITH NORMAL VERBS TO EXPRESS THE IDEA THAT SOMETHING IS HAPPENING NOW, AT THIS MOMENT.
9.1.1. EXTRUCTURE OF THE PRESEN CONTINUOUS
9.1.2. SUBJECT: I, YOU, HE, SHE, IT, YOU, WE, THEY.
9.1.3. AUXILIARY VERB: AM, ARE, IS
9.1.4. MAIN VERB+ING
9.1.5. EX. I AM (TALK+ING) TALKING TO YOU
10. WHAT TIME IS IT?
10.1. IN THIS TOPIC, WHAT TIME IS IT, I LEARNED HOW TO ASK AND SAY THE TIME, VERY INTERESTING.
10.1.1. EX. WHAT TIME IS IT?
10.1.2. IT IS ELEVEN O´CLOCK
10.1.3. IT IS TEN PAST TWO
10.1.4. IT IS A QUARTER TO ONE
10.1.5. IT IS TWO THIRTY, ETC.
11. THERE IS/ARE
12. JOBS
12.1. ALSO I LEARNED THE DIFERRENT OCCUPATION AND PROFESSION OR JOBS IN ENGLISH
12.1.1. EX. PILOCE, LAWYER, BAKER, BANKER, YOGA INSTRUCTOR ETC.
13. FOR MORE INFOMATION ABOUT THE TOPICS. CLICK THE FALLOWING LINK
13.1. FAMILY MEMBER:
13.2. https://www.mindmeister.com/520070937
13.3. DEMOSTRATIVE PRONOUN
13.4. https://www.mindmeister.com/520963511/demonstrative-pronoun-this-that-these-those
13.5. IN THIS TOPIC A GOT VERY FAMILIAR WITH THE TYPE OF FAMLY IN OUR SOCIETY, NUCLEAR FAMILY, EXTENDED FAMILY, SINGLE FAMILY, FOSTER FAMILY , ETC
14. DEMOSTRATIVE PRONOUN
14.1. THIS, WE USE THIS TO REFER TO A PERSON OR OBJECT NEAR THE SPEAKER
14.1.1. EX. THIS IS AN APPLE
14.1.2. THIS IS MY CAR
14.2. THAT
14.2.1. WE USE THAT TO REFER TO SOMETHING THAT IS THERE/FAR
14.2.1.1. EX. THAT IS OUR HOUSE
14.2.1.2. THAT DOG IS LOST.
14.3. THESE WE USE THESE TO REFER TO PEOPLE OR OBJECT NEAR THE SPEAKER
14.3.1. EX. THESE ARE OUR CHILDREN
14.4. THOSE. WE USE THOSE TO REFER TO SOMETHING THAT IS THERE/FAR
14.4.1. THOSE ARE MY FRIENDS
15. I AM WEARING
15.1. WE USE I AM WEARING TO DESCRIBE HOW I AM DRESSING. WE CAN USE THE VERB TO WEAR TO DESCRIBE HOW OTHER PEOPLE ARE DRESSING ALSO AND I LEARNED THIS IN A FUN WAY, WITH A VIDEO THAT I MADE,
15.2. SHE IS WEARING A RED DRESS AND WHITE HIGH HEELS SHOES.
16. LEARNING THE ALPHABET
16.1. IN THIS TOPIC, I INVESTIGATED A VERB FOR EACH LETTERS OF THE ALPHABET. SO I LEARNED THE ALFABET AND MANY VERBS