CICLO III 2015 INGLES BÁSICO
by rosana ganuza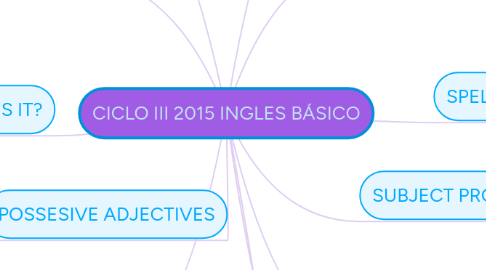 1. SUBJECT PRONOUN
1.1. SINGULAR PRONOUN
1.1.1. I, YOU, HE, SHE, IT
1.2. PLURAL PRONOUN
1.2.1. WE, YOU, THEY.
2. PRSENT CONTINUOUS
2.1. They are washing the car.
2.2. Nelsito is laughing.
2.3. Esmeralda is sleeping.
3. POSSESIVE ADJECTIVES
3.1. POSSESIVE ADJETIVES ARE USED TO SHOW OWNERSHIP, THAT SOMETHING BELONGS TO YOU.
3.1.1. MY, YOUR, HIS, HER, ITS, OUR, YOUR, THEIR
4. THE VERB TO BE
4.1. VERB SER O ESTAR. FOR I THE VERB FORM USED IS AM FOR YOU IS USED ARE FOR HE, SHE Y IT USE IS FOR WE, YOU (PLURAL), Y THEY USE ARE
4.1.1. I AM ENGLISH I AM HUMAN AM I IN SAN MIGUEL? WHERE ARE THEY? WHO ARE YOU?
5. WHAT TIME IS IT?
5.1. It is three past twelve.
5.2. It is twenty six past two.
5.3. It is twelve past twelve.
6. JOBS
6.1. OCCUPATION AND PROFESSION OR JOBS
6.1.1. EX. Archaeologist, Accountant, Auctioneer, Auditor
6.1.2. Are you an accountant? Yes, I am. Is your sister an archaeologist? No, she isn´t.
7. THERE IS/ARE
7.1. https://soundcloud.com/rosana_ganuza94/rosana
7.2. There is
7.2.1. There is a bed in my room.
7.2.2. There is a closet in my room.
7.3. There are
7.3.1. There are many pairs of sandals in my room
7.3.2. There are many study books in my room
8. IMPORTANCE OF THE NUMBER.
8.1. In this opportunity I AM going to write about number and importance To know the pronunciation and how to write number in a correct way. Knowing the number in English allow us to count, paying the right price when some tell us how much it is, We can tell the time, we tell ID number like passport number etc.
9. SPELLIN VERB
9.1. TO ASK, TO DRINK, TO CALL, TO DANCE, TO EARN TO FALL, TO GAIN, TO HAVE, TO IGNORE, TO JUMP
10. NATIONALITIES
10.1. WHERE ARE YOU FROM?-WHAT IS YOUR NATIONALITY?
10.2. WHERE IS HE IS FROM?
10.2.1. HE IS FROM ALBANIA
10.3. WHAT IS YOUR NATIONALITY?
10.3.1. HE IS ALBANIAN
10.4. WHAT LANGUAGE DOES HE SPEAK?
10.4.1. HE SPEAKS ALBANIAN
11. SUBJECT PRONOUN SENTENCES
11.1. Singular: I, YOU, HE, SHE, IT
11.1.1. I am friendly and have great feelings.
11.1.2. He plays soccer
11.1.3. She is an excellent dancer
11.2. Plural: WE, YOU, THEY
11.2.1. We were very happy at carnaval
11.2.2. You are all so nice
11.2.3. They were never my friends
12. ENLACES
12.1. http://es.blaving.com/rosanazelaya/p/515130/tarea-de-ingles
12.2. https://www.mindmeister.com/es/549756741/types-of-families