Standards & Objectives of ELL Programs. Author: Shanda Bonn
by Shanda Bonn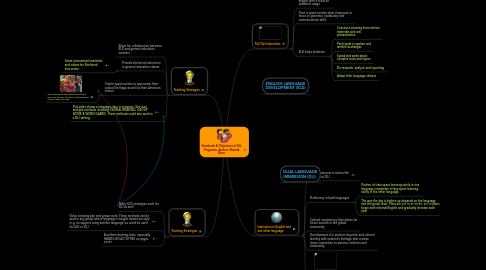 1. Teaching Strategies
1.1. Many ELD strategies work for DLI as well
1.2. Video showing pair and group work. These methods can be used in any group where language is taught immersion style (e.g. no support using another language) so could be used for ELD or DLI
1.3. Excellent teaching tools, especially HANDS-ON ACTIVITIES on pages 49057
2. Instruction in English and one other language
2.1. A DLI classroom in action/the benefits of DLI
2.2. Proficiency in both languages
2.2.1. Portion of class spent learning solely in one language; remainder of day spent learning solely in the other language
2.2.2. The way the day is broken up depends on the language and the grade level. Plans are 90/10 or 50/50. 90/10 plans begin with minimal English and gradually increase each year
2.3. Cultural competency that allows for future success in the global community
2.4. Development of a positive linguistic and cultural identity with student's heritage that creates closer connection to parents, relatives and community
2.5. ACTFL Proficiency Guidelines
3. Pull Out Instruction
3.1. Primary goal: Fluency in English with a focus on academic usage
3.2. Time is spent outside main classroom to focus on grammar, vocabulary and communication skills
3.3. ELD helps students:
3.3.1. Construct meaning from written materials and oral presentations
3.3.2. Participate in spoken and written exchanges
3.3.3. Speak and write about complex texts and topics
3.3.4. Do research, analysis and reporting
3.3.5. Adapt their language choices
4. Teaching Strategies
4.1. Allow for collaboration between ELD and general education teachers
4.2. Provide sheltered instruction in general education classes
4.2.1. Great instructional materials and videos for Sheltered Instruction
4.3. Create opportunities to appreciate their cultural heritage as well as their American culture
4.3.1. Get creative with everything from Chinese New Year to Cinco de Mayo, Thanksgiving to Martin Luther King Day!
4.4. This video shows a language class in progress. She uses multiple methods including CHORAL READING, GROUP WORK & WORD GAMES. These methods could also work in a DLI setting.
5. DUAL LANGUAGE IMMERSION (DLI)
6. ENGLISH LANGUAGE DEVELOPMENT (ELD)