ANALYSE INFORMATION FROM SECONDARY SOURCES TO IDENTIFY EXAMPLES OF THE USE OF TRANSGENIC SPECIES AND USE AVAILABLE EVIDENCE TO DEBATE THE ETHICAL ISSUES ARISING FROM THE DEVELOPMENT AND USE OF TRANSGENIC SPECIES
by
Janelle Mansour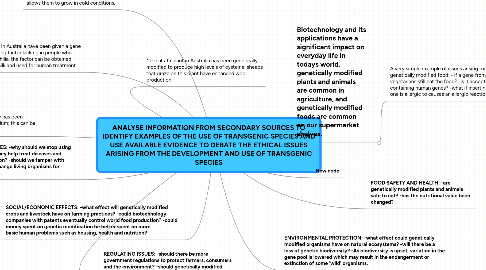 0.0
stars - reviews range from
0
to
5
ANALYSE INFORMATION FROM SECONDARY SOURCES TO IDENTIFY EXAMPLES OF THE USE OF TRANSGENIC SPECIES AND USE AVAILABLE EVIDENCE TO DEBATE THE ETHICAL ISSUES ARISING FROM THE DEVELOPMENT AND USE OF TRANSGENIC SPECIES
Biotechnology and its applications have a significant impact on everyday life in todays world. genetically modified plants and animals are common in agriculture, and genetically modified foods are common on our supermarket shelves.
A very simple example of issues arising for debate are those concerning genetically modified food: - if a gene from a pig is inserted, can vegetarians still eat the food? -is it acceptable to eat animals containing human genes? -what if inserting a gene from a substance one is allergic to causes an allergic reaction?
FOOD SAFETY AND HEALTH: -are genetically modified plants and animals safe to eat? -has the nutritional value been changed?
ENVIRONMENTAL PROTECTION: -what effect could genetically modified organisms have on natural ecosystems? -will there be a loss of genetic biodiversity? -As biodiversity is upset, variation in the gene pool is lowered which may result in the endangerment or extinction of some 'wild' organisms.
REGULATING ISSUES: -should there be more government regulations to protect farmers, consumers and the environment? -should genetically modified foods be clearly labelled?
SOCIAL/ECONOMIC EFFECTS: -what effect will genetically modified crops and livestock have on farming practices? -could biotechnology companies with patents eventually control world food production? -could money spent on genetic modification be better spent on more basic human problems such as housing, health and nutrition?
ETHICAL/MORAL ISSUES: -why should we stop using these technologies if they help treat diseases and increase food production? -should we tamper with nature? -is it right to change living organisms for commercial gain?
*Transgenic Sheep in Australia have been given a gene for the blood-clotting factor lacking in people who suffer from hemophilia. the factor can be obtained from the sheep's milk and used for human treatment.
*The alfafa plant in Australia has been genetically modified to produce high levels of cysteine. sheeps that graze on this plant have enhanced wool production.
*The human insulin gene has been inserted into fish in belgium; this can be used to treat diabetes.
*Strawberries in Scandinavia have been transformed into a Salmon Gene that allows them to grow in cold conditions.
New node