BASIC ENGLISH CICLO III
by Cindy bermudez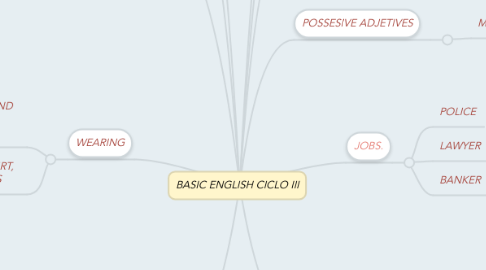 1. THE PREPOSITION
1.1. IN THE PARK.
1.2. ON THE TABLE
1.3. AT SCHOOL
2. PRESENT CONTINUOUS
2.1. I AM TAKING THE BUS TO WORK TODAY
2.2. SHE IS WORKING HARD
3. THERE IS-THERE ARE
3.1. THERE IS A CAR ON THE STREET
3.2. THERE ARE TWO DOG BURKING
4. POSSESIVE ADJETIVES
4.1. MY, HIS, HER, ITS, OURS, YOUR, THEIR
5. TIME
5.1. WHAT TIME IS IT?
5.2. IT IS A QUARTER PAST THREE
5.3. IT IS FIFTEEN PAST NINE
6. PERSONAL PRONOUS
6.1. I, YOU, HE, SHE, IT, WE, YOU, THEY
7. FAMILY
7.1. NUCLEAR FAMILY
7.2. SINGLE PARENT FAMILY
7.3. EXTENDED FAMILY
7.4. STEP FAMILY
8. WEARING
8.1. SHE IS WEARING RED BLOUSE AND A BLUE PANTS AND WHITE SHOES
8.2. HE IS WEARING A WHITE SHIRT, BLUE JEANS A WHITE SHOES
9. JOBS.
9.1. POLICE
9.2. LAWYER
9.3. BANKER
10. TO BE
10.1. I AM, YOU ARE, HE SHE IT/ IS
10.2. WE, YOU, THEY/ARE
11. DEMOSTRATIVE PRONOUN
11.1. THIS
11.2. THAT
11.3. THESE
11.4. THOSE