Should the drinking age be lowered to 18?
by Sierra Johnson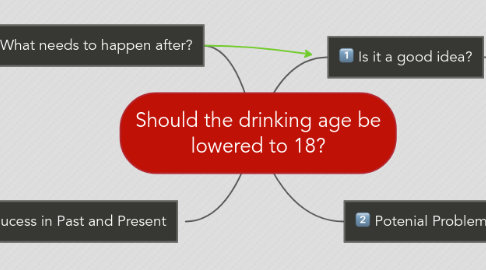 1. Potenial Problems
1.1. Children start drinking earlier.
1.2. Increase in juvenile crime rate
1.3. Higher rate of alcohol poisoning
2. Sucess in Past and Present
2.1. Other Countries have lower drinking age
2.2. 29 States Have Lower Drinking Age on Private Premisis
2.3. In the US, drinking age was lower than 21
3. What needs to happen after?
3.1. Require more to obtain License
3.2. Increase in police presence
3.3. Strict conequences for offenses
4. Is it a good idea?
4.1. Decrease Undergae drunk driving
4.2. Increase in funds due to charging more to get a license
4.3. Decrease in fatal drunk driving car accidents