adverbial subordinate clauses
by jairo tovar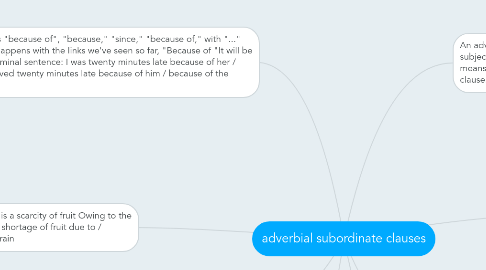 1. Because of: means "because of", "because," "since," "because of," with "..." Contrary to what happens with the links we've seen so far, "Because of "It will be followed only a nominal sentence: I was twenty minutes late because of her / the traffic ... - I arrived twenty minutes late because of him / because of the traffiC
2. In case / just in case: a row of a sentence in present tense, used to speak of a possibility in the future: Take a book (just) in case You have to wait for him - Bring a book if you have / should you have to wait for it (in the future
3. owing to There is a scarcity of fruit Owing to the rain - There is a shortage of fruit due to / because of the rain
4. Since: use and translation are similar to those of "ace". Since I was very tired, I Went to bed at 9:00 pm - Como (as / as) was very tired, I went to bed at 9. Both "since" as "as" often appear more frequently prayer at first, but it would not be wrong to say: I Went to bed at 9:00 pm since I was very tired - I went to bed at 9 o'clock, as I was very tired. However, it is not so common to use "as" after the main clause
5. As: As I was very tired, I Went to bed at 9:00 pm - As I was very tired, I went to bed at 9. As in the previous case, "as" is followed by a prayer
6. Because I was very tired. - I went to bed at 9 because I was very tired. As we can see, "Because" is followed by a sentence (clause) and not a noun phrase, as will happen with other "linkers"
7. Time: when, before (that) after (that) . Location: where . Modal: like, as if . Final: to (that) . Causal: because . Conditional: if . Concessive: although . Comparison: more / less ... than so / so ... as
8. An adverbial clause serves as an adverb and contains a subject and a verb. It is a dependent clause, which means that you must be connected to a separate clause.