Saving, Spending and Debt: Understanding Financial Basics in your 20's
by Barney Hughes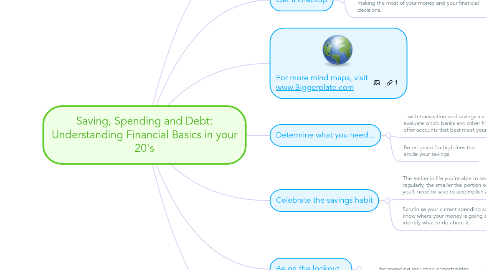 1. Overview
1.1. You're finished with school and entering the workforce.
1.2. You want to make sure you create a firm foundation for your personal finances.
1.3. Keep the following in mind when you start:
2. Get a checkup
2.1. Just as you benefit from a health checkup, be sure to get a checkup on your finances to ensure that you're making the most of your money and your financial decisions.
3. Determine what you need...
3.1. ...with transaction and savings accounts and evaluate which banks and other financial firms offer accounts that best meet your needs.
3.2. Be on guard for high fees that erode your savings.
4. Celebrate the savings habit
4.1. The earlier in life you're able to save money regularly, the smaller the portion of your income you'll need to save to accomplish a given goal.
4.2. Scrutinise your current spending so that you know where your money is going and you can identify what to do about it.
5. Be on the lookout...
5.1. ...for spending reduction opportunities.
5.1.1. Regularly saving money, especially on a modest income, is challenging.
5.1.2. While there are many ways to reduce your spending, ultimately, how you cut your spending is a matter of personal preference.
6. Understand good and bad debt
6.1. Debt can be a useful tool to enable the purchase of real estate or other valuable assets.
6.2. Avoid consumer debt, such as on credit cards and auto loans.
6.2.1. Consumer debt tends to be costly, and the interest isn't tax-deductible.
7. For more mind maps, visit www.Biggerplate.com