Getting Insurance to Protect You and Your Income
by Barney Hughes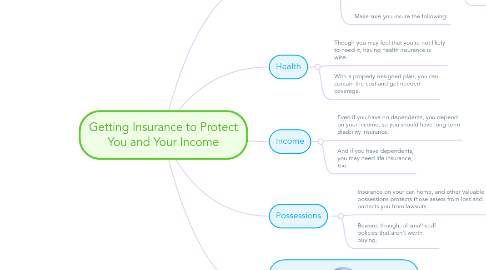 1. Introduction
1.1. Insurance plays a significant role in protecting your interests, including...
1.1.1. your health
1.1.2. your income
1.1.3. your property
1.1.4. and more!
1.2. Make sure you insure the following:
2. Health
2.1. Though you may feel that you're not likely to need it, having health insurance is wise.
2.2. With a properly designed plan, you can contain the cost and get needed coverage.
3. Income
3.1. Even if you have no dependents, you depend on your income, so you should have long-term disability insurance.
3.2. And if you have dependents, you may need life insurance, too.
4. Possessions
4.1. Insurance on your car, home, and other valuable possessions protects those assets from loss and protects you from lawsuits.
4.2. Beware, though, of small-stuff policies that aren't worth buying.
5. For more mind maps, visit www.Biggerplate.com