Tricks for Creating High Performance Each Day
by Barney Hughes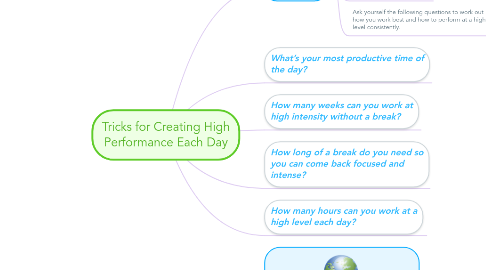 1. How many hours can you work at a high level each day?
2. For more mind maps, visit www.Biggerplate.com
3. What's your most productive time of the day?
4. How many weeks can you work at high intensity without a break?
5. How long of a break do you need so you can come back focused and intense?
6. Introduction
6.1. Professional athletes work to be in "the zone", a place where positive results seem to stick like a magnet.
6.2. You can create that high performance zone each day.
6.3. Ask yourself the following questions to work out how you work best and how to perform at a high level consistently.