Mobile Content Axel Dürkop @trainxl
by
Axel Dürkop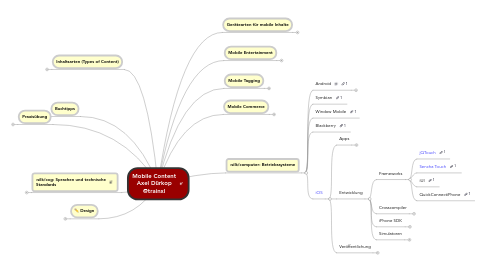 0.0
stars - reviews range from
0
to
5
Mobile Content Axel Dürkop @trainxl
Dieses Werk steht unter einer Creative Commons Lizenz: http://creativecommons.org/licenses/by/3.0/de/
Sprachen und technische Standards
Bildnachweis: Martijn Streefkerk@flickr.com
WAP
offener Standard nach W3C
WMLScript, Tutorial
WML, Tutorial
i-mode
NTT DoCoMo's i-mode is a mobile internet (as opposed to wireless internet) service popular in Japan. Unlike Wireless Application Protocol or WAP, i-mode encompasses a wider variety of internet...
" XHTML MP (eXtensible HyperText Markup Language Mobile Profile) is the markup language defined in WAP 2.0. WAP 2.0 is the most recent mobile services specification created by the WAP Forum (now the Open Mobile Alliance [OMA]). The specification of WAP CSS (WAP Cascading Style Sheet or WCSS) is also defined in WAP 2.0. WAP CSS is the companion of XHTML Mobile Profile and they are used together. With WAP CSS, you can easily change and format the presentation of XHTML MP pages. XHTML Mobile Profile is a subset of XHTML, which is the stricter version of HTML. XHTML Mobile Profile is XHTML Basic (also a subset of XHTML) plus some additional elements and attributes from the full version of XHTML. The goal of XHTML Mobile Profile is to bring together the technologies for mobile Internet browsing and that for the World Wide Web. Before the coming out of XHTML Mobile Profile, WAP developers make use of WML and WMLScript to create WAP sites, while web developers use HTML / XHTML and CSS style sheets to build web sites."
FlashLite
"It is a technology for developing applications that run on a mobile operating system." (https://secure.wikimedia.org/wikipedia/en/wiki/Adobe_Flash_Lite)
MS Silverlight
Slideshow zur Einführung
Ruby/Rails als Entwicklungsumgebung
HTML5
http://www.drweb.de/magazin/html5-ueberblick/ http://www.webkrauts.de/2009/10/05/html5-in-der-praxis-1/ http://www.webkrauts.de/2009/10/06/html5-in-der-praxis-2/ http://www.smashingmagazine.com/2009/07/06/html-5-cheat-sheet-pdf/
Speicherarten, Web Storage Local, Web Storage Database, Application Cache, Geolocation
CSS3
http://www.smashingmagazine.com/2009/07/13/css-3-cheat-sheet-pdf/
Animationen
Transformationen
Canvas
Cheat Sheet
Cheat Sheet 2
-webkit-Referenz
Grandioses Showcase!
JavaScript
SQLite
Online oder Offline?
Verfügbarkeit
Synchronisation
Mobile Tagging
Artikel auf heise.de
Mobile Entertainment
Mobile Logos/Ringtones
"Mobile Logos & Ringtones
"Best Mobile World"
Mobile Videos
HandyTV, "Sky zeigt Fußball-WM auf dem iPad", Sky Go, "T-Mobile: Die Fußball-WM auf dem Handy"
Movies on Demand, via iTunes
Mobile Glücksspiele
Mobile Gambling
Location Based Services
Foursquare
Brightkite
Loopt
Yowza!!
Zhiing
Please Rob Me!
We love the Net!
Datenschutzaspekt: Malte Spitz' Bewegungsprofil
onlive Games vom Server an Client
Design
Seitenaufbau
Bilder
Typografie
Formulare
URL-Design
Navigation und Usability
Wordpress-Themes
Betriebssysteme
Halb-offenes OS, Basis ist Linux * https://secure.wikimedia.org/wikipedia/de/wiki/Android_%28Betriebssystem%29
Linux
Android SDK
Übersicht Android-Apps
"Android-Anwendungen aus Bauklötzen"
iOS
Apps, Native Apps, Objective-C, WebApps, Apple Guideline (nur für reg. Developer, Hybride Apps, PhoneGap, Pro und contra
Entwicklung, Frameworks, jQTouch, Sencha Touch, iUI, QuickConnectiPhone, Crosscompiler, Phonegap, Beispiele, Download, PhoneGap Build, Appcelerator Titanium, RhoMobile, PhoneGap vs. Titanium, Crosscompiler - Noch erlaubt?, iPhone SDK, Ältere Versionen, Simulatoren, iPhoney (Mac), im iPhone SDK (Mac), IBBDemo2 (Windows), Adobe Air nötig!?, mobi one (Windows)
Veröffentlichung, Rechtsfragen, Vorgehen
Inhaltsarten (Types of Content)
Audio
Video
Games
Websites
eLearning
eBooks
Comics
Navigation/Karten
Buchtipps
Mobile Commerce
Mobile Informationsdienste
Aktuelle Nachrichten (Politik, Wirtschaft, Sport)
Mobile Ticketing (Reisedienste, Fahrpläne, Verbindungen)
Mobile Marketing (Werbung)
Mobile Banking (Finanzdienste, Börsenberichte)
Mobile Payment
Beispiel: Starbucks
App Economy
Gerätearten für mobile Inhalte
Handy/Smartphones
Tablet
Reader
Netbook
Notebook
Wer hat was?
Praxisübung
Wordpress
Download http://wordpress-deutschland.org/ Installation Download des Plugins: http://wordpress.org/extend/plugins/wordpress-mobile-edition/
Plugin: Wordpress Mobile Edition
Optimierung einer Website für das iPhone
CSS3-Etüden
Beispiel mit jQTouch
PhoneGap