Web 2.0 from a CSCW perspective
by
Soren Atmakuri Davidsen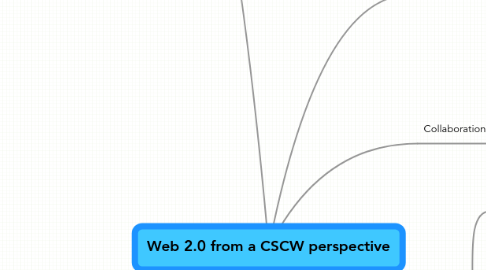 0.0
stars -
0
reviews range from
0
to
5
Web 2.0 from a CSCW perspective
What is Web2.0?
Social Software
Communities vs. Collaboration
Examples of places; youtube, del.icio.us, facebook
Taxonomies (?)
Collaboration perspective
Web2.0
CSCW
General principles
Unstructured article input
Blogging as Social Activity, or, Would You Let 900 Million People Read Your Diary?
p222-nardi.pdf
A Face(book) in the Crowd: Social Searching vs. Social Browsing
What Goes Around Comes Around: An analysis of del.icio.us as social space
p191-lee.pdf
The Long Tail
http://www.wired.com/wired/archive/12.10/tail.html
ECSCW 2007 papers
http://cscwlab1.informatik.unibw-muenchen.de/twiki/bin/view/Main/Ecscw2007Ws
HT06, Tagging Paper, Taxonomy, Flickr, Academic Article, To Read
p31-marlow.pdf
Shared Waypoints and Social Tagging to Support Collaboration in Software Development
What is Web2.0?
Differences
Where to use
Example: Facebook vs Sharepoint
System introduction
Development model
Web2.0 and CSCW symbiosis
Web2.0 has new kinds of collaboration (Find examples)
Possible to integrate with "traditional" CSCW
Summary
Web2.0
CSCW
From the book, communities are ..
"a set of people who share something"
Related to teams in groupwork like ...
Tagging vs recommending
Amazon vs. Flickr (?)
Is it the same (?)