ASPECTOS GENERALES DEL PROYECTO
by eileen marcela garcia trillo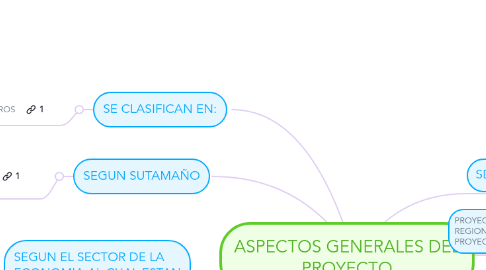 1. SEGUN EL EJECUTOR
1.1. PUBLICOS, PRIVADOS, MIXTOS
2. SEGUN EL OBJETIVO
2.1. PROYECTO DE PRODUCCION DE BIENES, PROYECTO DE PRESTACION DE SERVICIO, PROYECTO DE INVESTIGACION
3. SEGUN SUTAMAÑO
3.1. PROYECTOS PEQUEÑOS, PROYECTOS MEDIANOS, PROYECTOS GRANDES O MACROPROYECTOS
4. SE CLASIFICAN EN:
4.1. SOCIALES Y FINANCIEROS
5. SEGUN EL SECTOR DE LA ECONOMIA AL CUAL ESTAN DIRIGIDOS
5.1. AGROPECUARIOS, INDUSTRIALES, DE INFRAESTRUCTURA SOCIAL, DE INFRAESTRUCTURA ECONOMICA Y DE SERVICIOS
6. By the way, this is a floating topic. To create a floating topic, simply drag it away from the map center.
7. SEGUN SU AREA DE INFLUENCIA
8. PROYECTOS LOCALES, PROYECTOS REGIONALES, PROYECTOS NACIONALES, PROYECTOS MULTINACIONALES