CRM Communication
by
polly rt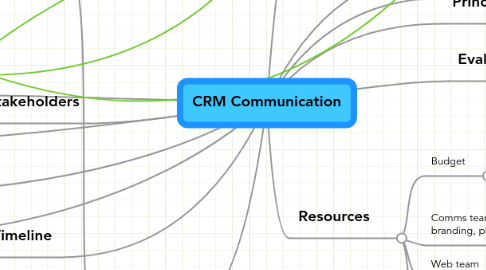 0.0
stars - reviews range from
0
to
5
CRM Communication
Channels
CABlink
CABlink page
ICT Newsletter
Non-ICT pages, Training, Membership services, Development, CABLegal
Key messages in monthly update
Grapevine
Face to face
1-1, ITMCs, ICTAs, BST, Bx reps on design groups, BMCs, Public Direct
1-x, ICT Tech Meetings, ICT Management Meetings, Membership services events, Dev services events, Conference, Roadshows
Formal/informal, Personal contacts/networking
Paper
Midmonth Pack?
Distributed at events - leaflets etc
Non-ICT Newsletters, Arian
Other online
Blog?, Could act as content source for other channels?, Integrate into CABlink?
Assume ruling out consumer s media
email
subscription list?
stakeholders
As for project
Senior stakeholders out of scope for comms? (direct contact with proj team)
messages
Awareness (early stages)
Action (towards launch)
Support and value (internal esp)
News & updates - is this wanted? For which audience(s)?
Objectives
Why are we communicating?
What do we want people to do as a result of our comms?
How will we know if it's working?
Key Audiences
Bureau Managers
Bureau IT Coordinators
Training coordinators
Users
Specialists
Gateway Advisers
Reporting Users
Supervisors
Generalist Advisers
CItA Internal
Bureau Partners?
Logica Internal
Evaluation
Timeline
Work back from launch?
Announcement of pilot
Development info
Business process change Planning
Technical Planning
Training
Name/Brand???
Name
Logo?
Strapline?
"The promise you make to your customers"
Identity as a product and as a project
CASE Replacement or ???
Assume limited scope
Assume corporate colours etc
Needs to take a longer view on branding
Questions/Issues
Consultation on implementation? (as per dev process?)
Roles
Resources
Principles
honest
succinct
plain english
cost effective
avoid overload - minimum to be effective
1-way/2-way
Links with other stakeholders (e.g. PD, MSD)
Links with support
Resources
Budget
Assume very limited
Decent branding will need to be commisioned
Comms team (help with branding, planning etc)
Web team
People
Scope