Technologies - Australian Curriculum
by Heather Barnwall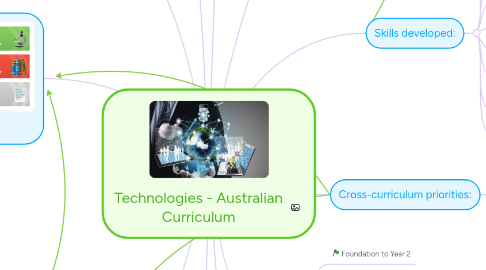 1. Learning Areas
1.1. Literacy
1.2. Numeracy -
1.3. Science
1.4. History
1.5. Geography
1.6. The Arts
1.7. Health and PE
2. Technologies Contexts
2.1. Materials/ Products
2.2. Food and fibre production
2.3. Engineering principles and systems - spacial cognition, materials
2.4. Food technologies - promote health and wellbeing, food production: 'paddock to plate'
2.5. Personal/ Family Contexts
3. Skills developed:
3.1. Play and imagination
3.2. Make meaning of objects
3.3. Creative thinking
3.4. Invent new ideas
3.5. Critical and sustained thinking
3.6. Individual accountability
3.7. Abstraction - cognitive and computation skills
3.8. Data - Interpret data patterns and contexts
4. General Capabilities
4.1. Literacy: - Learning to communicate ideas and concepts - Listening, speaking, writing, viewing
4.2. Numeracy: -Calculate, measure, estimate, interpret information - Use 3D models to create accurate drawings
4.3. Information and communication technology: -Gain ICT skills and become familiar with digital systems and technologies
4.4. Critical and creative thinking: - Develop reasoning through thinking about solutions to challenging problems
4.5. Personal and Social: - Direct own learning and carry out investigations - Develop social skills through collaborative learning
4.6. Ethical understanding: - Investigate past, current and future technologies using an ethical lens - Learn safe and ethical procedures - Environmental sustainability, economic viability, social responsibility/awareness
4.7. Intercultural understanding: -How technologies are used in diverse communities -Beliefs, values, practices and assumptions
5. Cross-curriculum priorities:
5.1. Aboriginal and Torres Strait Islander histories and cultures
5.2. Asia and Australia's engagement with Asia
5.3. Sustainability
6. Key Concepts
6.1. Digital Technologies
6.1.1. Knowledge and understanding
6.1.1.1. Understanding the components of digital systems to function.
6.1.1.2. Use and impacts of information systems in people's lives.
6.1.2. Processes and production skills
6.1.2.1. Using online sources to communicate information using appropriate safety and technical protocols.
6.1.2.2. Using a range of digital systems.
6.1.2.3. Identifying problems and implementing solutions.
6.2. Design and Technologies
6.2.1. Knowledge and understanding
6.2.1.1. Design concepts of technologies
6.2.1.2. Use, development and impact of technologies in people's lives.
6.2.1.2.1. Uses/ Needs
6.2.2. Processes and production skills
6.2.2.1. Critiquing, exploring and investigating needs/uses.
6.2.2.2. Generating, developing and evaluating design ideas and solutions.
6.2.2.3. Planning, producing and evaluating technology designs.
7. Overarching idea
7.1. Creating Preferred Futures
7.1.1. Social Responsibility
7.1.2. Sustainable patterns of living
7.1.3. Ethical Reasoning
7.1.4. Holistic approach: thinking about interactions and interrelationships
7.1.5. Creating sustainable solutions
8. Student Diversity
8.1. Students with disability: -Adjust the content level - Modify tools/ equipment
8.2. English as an additional language/dialect: - Additional time/support
8.3. Gifted and talented students: - Explore the content area in greater depth - Increase cognitive skills/ creative thinking -Increase education pedagogy and project-based learning to allow individual responsibility
9. Bands
9.1. Foundation to Year 2
9.2. Years 3 and 4
9.3. Years 5 and 6
9.4. Years 7 and 8
9.5. Years 9 and 10
10. Key aims
10.1. Students investigate, design, plan, manage and create and evaluate solutions
10.2. Use contemporary and emerging technologies to increase students creativity and innovation
10.3. make informed and ethical decisions about the role and impact of technologies in the economy, environment and sustainable future
10.4. critique, analyse and evaluate problems, needs or opportunities to identify and create solutions
11. Resources - EDUBlog Links
11.1. https://dtm4260.edublogs.org/?p=3368&preview=true
11.2. http://dtm4260.edublogs.org/2015/08/10/heather-barnwall-10330986-poultry-hub/