Increasing Community Involvement
by
Angela Stuhr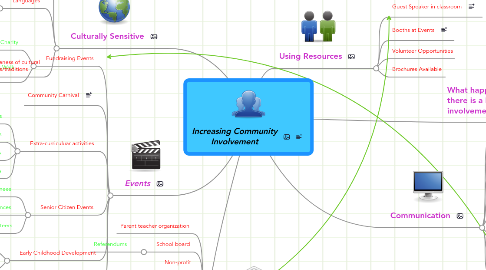 3.0
stars -
1
reviews range from
0
to
5
Increasing Community Involvement
Let's use our community to the best of our abilities :)
Communication
Newspaper
E-mail List Serve
Newsletter
Schools can use bi-weekly newsletters, monthly newsletter, or possibly weekly newsletters
School TV Station
Radio Station
Community members who may not be able to get out of their homes may still be able connect with the schools and following and listening to the extra-curricular activities on the radio.
Telephone
A lot of work, but just calling our students parents and making them aware of their child's behavior and upcoming events in which they can get involved.  
Door to Door
With unlimited extra-curricular activities at our school, their programs need to make money so they go out into the community and sell their fundraising product. A great way to connect with community and make them aware of upcoming events at RAHS.  It could be given to them on a 1/2 sheet of paper or provide them with the school website address where they can access all the events.      
Surveying
Events
Fundraising Events
Community Charity
i.e. Relay for Life, Darfur Awareness Run, Diabetes Walk, 623 run etc.
Community Carnival
A community carnival put on by students and staff that invites the community to play games, have fun, and interact with each other.  
Extra-curriculuar activities
Sporting events
Band & Choir Concerts
Specific Cultural Programs
Art shows
Senior Citizen Events
Play matinees
Dances
Student Volunteers
Early Childhood Development
Baby Day
Toddler Day
In-Depth Service Learning Projects
Bring the school to the community-sponsored events.  
Using Resources
Guest Speaker in classroom
Invite people from the community to talk about certain topics
Booths at Events
Invite local companies
Volunteer Opportunities
Brochures Available
Culturally Sensitive
Physical Environment
Different languages used on wall hangings
Multicultural Posters
Languages
Education Assistants
Language Lines
Interpreters
Awareness of cultural norms/traditions
Appropriate greeting ie: handshake, bow, welcoming phrase, etc
Holidays and celebrations
Get involved with cultural meetings, programs, etc.
Organizations
Parent teacher organization
School board
Referendums
Non-profit
Businesses
Make connections with local businesses.  For example, for our Physical Education 12 class, we have built a good relationship with County Cycles in Roseville where they come and maintenance all 40 of our bikes 3x a year at No Charge.  
Prevention and Safety
Police
Fire Department
EMTs
Local Government
What happens to our schools when there is a lack of community involvement in schools?