Middle School Math Grade 7 CCSS.MATH.CONTENT.7.RP.A.3 Use proportional relationships to solve multistep ratio and percent problems. Examples: simple interest, tax, markups and markdowns, gratuities and commissions, fees, percent increase and decrease, percent error.
by HJ Lexer Jo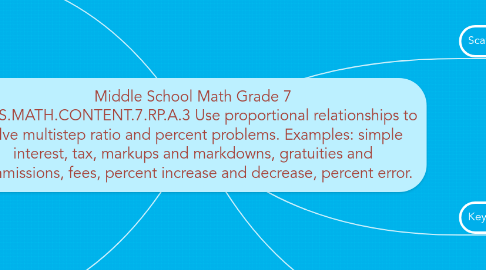 1. General Details
1.1. Grade 7
1.2. Mathematics
1.3. International School
2. Scaffolding Strategies
2.1. Advance Organizer
2.1.1. Flow Chart showing proportional relation and how to represent real life situation in mathematical terms.
2.2. Mind-map
2.2.1. Allow students to create any type of mind-maps. They can also work as a group to make a mind-map. Implementing technology is recommended in this strategy.
2.3. Stories
2.3.1. Teacher prepares different stories that can be analyzed to represent proportional relation. Stories contain different interests of students. It is required to find out what interest students have by before the class.
2.4. Visual Scaffold
2.4.1. Teacher made short flipped videos will be offered in and out of class on google drive or smartphone application to allow students to access to it anytime they want.
3. Key Factors for My Students
3.1. ELL Students
3.1.1. Some students may need language support in class and their proficiency varies from beginning to advanced.
3.1.1.1. Advanced Organizer with language support will be beneficial for ELL students to make content more comprehensible.
3.2. Students with different interests
3.2.1. Interests of students are diverse ; sports, music, dancing, painting, culinary, movie
3.2.1.1. Stories strategies will allow students to get more involved with different stories that are related to the stories.
3.3. Learning Styles
3.3.1. Many students are visual learners. Boys prone to be more kinesthetic learners.
3.3.1.1. Visual scaffold will be appropriate for visual students. Also students with different learning styles will create mind-mapping by their own ways.
4. Objectives
4.1. 1. Identify the concept of proportional relationhips from including nutrients charts and bank interest chart.
4.2. 2. Exemplify more than three proportional relationship which are found in real life situation and represent with mathematical terms.
4.3. 3. Implement proportional relationship to figure out how much sugar students ingest daily.
4.4. 4. Outline a new dietary plan to engage in healthier life style by using proportional relationship.
4.5. 5. Analyze school dietary plan how much sugar they contain with proportional relationship and construct a new meal plan.
4.6. https://magic.piktochart.com/output/6954988-untitled-infographic
5. Big Ideas
5.1. The big idea for this entire standard involves with interpreting proportional relationship with real life. More specifically, students will understand concept of proportional relationship with authentic materials.
5.2. In regards to this particular lesson, the big idea is to learn about finding concept of proportional relationship in real life and appreciate mathematical concept in an authentic way.
6. Hyojong Cho Teach-Now