Training for your first marathon
by Laura Bârlădeanu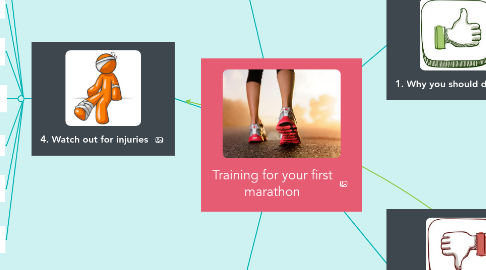 1. 1. Why you should do it
1.1. To get fit
1.2. Raise Money and Awareness for a Charity
1.3. The Sense of Accomplishment - The marathon is mythical.
1.4. Inspire others - Someone on the sidelines is going to start running soon because of seeing you pushing through this distance.
1.5. Self-confidence
1.6. Travel - it's a good excuse to travel to places you haven't been before
1.7. Make new friends
1.8. Overcome depression
2. 2. Why you shouldn't do it
2.1. You haven't trained enough.
2.2. You're not willing to train enough.
2.3. Your social life may suffer.
2.4. It may hurt your immune system.
2.5. A marathon isn't a surefire way to lose weight.
2.6. Risk of injury
3. 3. Find the training plan for you
3.1. Disclaimer: if you haven't been running for at least a year or more and haven't raced at least one half marathon you should first aim at a shorter distance race.
3.2. Hal Higdon's training plans
3.2.1. Novice
3.2.1.1. It is designed for people with some background as a runner, whether or not they have run a marathon before.
3.2.1.2. 4 runs / week
3.2.2. Intermediate
3.2.2.1. It is designed for more experienced runners who are used to very long runs
3.2.2.2. 5 runs / week
3.3. Jenny Hadfield
3.3.1. The plan for beginners
3.3.1.1. It is geared to first-timer marathoners and gradually builds in mileage and intensity allowing your body to adapt to the new distances week to week.
3.3.1.2. 4 runs / week
3.3.2. Intermediate plan
3.3.2.1. It is geared towards runners who have completed a marathon and want to improve their time.
3.3.2.2. 4 runs / week
3.4. Beginners' plan by sport-fitness-advisor.com
3.4.1. Aimed at beginners who are not currently running at least 20-25 miles per week, over 3-5 sessions, but are fit and healthy.
3.4.2. 4 runs / week
3.5. Jeff Galloway
3.5.1. For absolute beginners.
3.5.2. 3 runs / week
3.6. Asics 12 weeks training plan
3.6.1. 4 runs / week + 1 strength training
4. 4. Watch out for injuries
4.1. Shin splints
4.1.1. Lower leg pain that occurs below the knee either on the front outside part of the leg (anterior shin splints) or the inside of the leg (medial shin splints).
4.2. Stress fracture
4.2.1. It's a tiny crack in the surface of a bone, usually in the lower leg or the metatarsals of the foot. Stress fractures usually occur when runners are increasing the intensity and volume of their training over several weeks to several months.
4.3. Runner's Knee
4.3.1. Patellofemoral pain syndrome (PFPS), or "runner's knee," is the irritation of the cartilage on the underside of the patella (kneecap).
4.4. Achilles Tendonitis
4.4.1. The Achilles tendon connects the two major calf muscles to the back of the heel. Under too much stress, the tendon tightens and becomes irritated (tendinitis).
4.5. Hamstring Issues
4.5.1. The muscles that run down the back of our thighs bend our knees, extend our legs, drive us up hills, and power finish-line kicks.
4.6. Plantar Fasciitis
4.6.1. Plantar fasciitis is the name for small tears or inflammation of the tendons and ligaments that run from your heel to your toes.
4.7. Iliotibial Band Syndrome (ITBS)
4.7.1. The iliotibial (IT) band lies along the outside of the thigh from the hip to the knee. When you run, your knee flexes and extends, which causes the IT band to rub on the side of the femur. This can cause irritation if you take up your mileage too quickly, especially if you're doing a lot of track work or downhill running.
5. 5. All set? Now find a race and sign up!
5.1. Jungfrau Marathon
5.1.1. Location: Interlaken, Switzerland; Date: September
5.2. Marathon du Medoc
5.2.1. Location: Pauillac, France; Date: September
5.3. Patagonian International Marathon
5.3.1. Location: Torres del Paine National Park, Chile; Date: September
5.4. Berlin Marathon
5.4.1. Location: Berlin, Germany; Date: September
5.5. Rock 'n' Roll Maratona de Lisboa
5.5.1. Location: Lisbon, Portugal; Date: October
5.6. Sparkasse Marathon der 3 Länder
5.6.1. Location: Lindau Island, Germany; Date: October
5.7. Amsterdam Marathon
5.7.1. Location: Amsterdam, Netherlands; Date: October 19
5.8. Niagara Falls International Marathon
5.8.1. Location: Buffalo, NY / Ontario, Canada; Date: October
5.9. SSE Airtricity Dublin Marathon
5.9.1. Location: Dublin, Ireland; Date: October
5.10. TCS New York City Marathon
5.10.1. Location: New York, NY; Date: November
5.11. Athens Marathon
5.11.1. Location: Athens, Greece; Date: November
5.12. Standard Chartered Bangkok Marathon
5.12.1. Location: Bangkok, Thailand; Date: November
5.13. Antarctic Ice Marathon
5.13.1. Location: Union Glacier, Antarctica; Date: November
5.14. Intertrust Cayman Islands Marathon
5.14.1. Location: George Town, Cayman Islands; Date: December
5.15. International Marathon of Marrakech
5.15.1. Location: Marrakech, Morocco; Date: January
5.16. Find more...