KPMG Veille web 14.3 au 20.4.08
by
mathilde pasty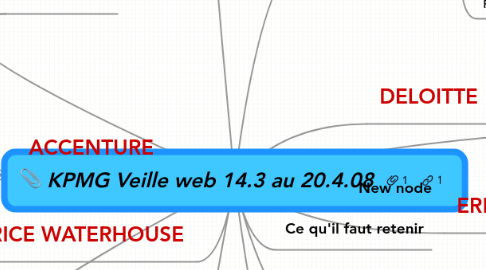 5.0
stars -
1
reviews range from
0
to
5
GRANT THORNTON
Recrutement : Les PME font la cour aux jeunes diplômés - L'Entreprise.8/4/08
Fidéliser les cadres : un objectif pour 44% des dirigeants de PME
Vos motivations pour intégrer un big
DELOITTE
RH
L'informatique : laboratoire des changements à venir dans le monde du travail
Recrutements & diversité : 200 contrats en alternance, stages et jobs d'été.27/2/08
Deloitte prévoit de recruter 1200 personnes en 2008.20/2/2008
Reputation
Strategic Innovation at Deloitte.19/2/08
MAZARS
Public Relations
Un petit-déjeuner organisé en partenariat avec Météo-France et ...
Mazars partenaire de l'Assemblée générale mondiale d'Erasmus
Mazars, mécène de l'exposition « Secrets de collections lilloises »
RH
Mazars : nouveau site RH et recrutement, Mazars lance « Mazars, c'est nous »
ERNST & YOUNG
Public Relations
Salon Produrable
RH
Consultant Junior: le profil type
Auditeur - Avis - L'audit chez Ernst & Young
Copains d'avant..
Identité
Une nouvelle identité visuelle. 3/3/08 par Charles
KPMG
Inside KPMG Monde
KPMG interns Video Contests/ Valeurs/ USA7/4/08
Formation-Cursus -Recrutement
The MBA Dilemma II-Etude KPMG sur Ranking MBA Finances. 22/2/08 par Pinchi
Tests de recrutement .From application Form to offer. 28/3/08 par Jexxo
ESCEM place ses stagiaires 20/3/08
Public Relations
Challenge SIFE. 3/3/08
Elodie Riou.3/3/08 par benjamin Murcier
Raid Hannibal
Prix d'excellence des Juniors Entreprises.World entrepreneurship Forum.3/3/08, World entrepreneurship Forum.3/3/08
Réputation
Critique d'une étude KPMG sur Entreprises familiales. 17/3/08
Et J'audite/ parodie. 18/2/08.971 vues
RH
Une Femme Pdte de la Cbre Commerce Chinoise ex stagiaire P&W.16.2/08
ACCENTURE
RH
2nde édition du speed recruiting d'Accenture Technology Solutions.12/3/08
Club Média RH. Recrutement sur Daily Motion / Fev 2008
CAP GEMINI
RH
Recrutement sur 6nergies.
FIDUCIAL
RH
Comment encourager les femmes créatrices d'entreprise ?
Recrutement Videos - Truveo Video Search
Le Club mediarh.com
L'ESCEM place ses jeunes stagiaires
Reputation
Conflit Fiducial/ Lyon Mag
C Lattouche et FN
What's Hot
Gouvernance des entreprises
L'IE en plein essor
20 Mai CCIP/PME : Formation aux e-déclarations fiscales
e-recrutement
Le e-recrutement, facteur de compétitivité insoupçonné
Lancement de Talent People RH.20/1/08
Ce qu'il faut retenir
New node
New node