Integration of Social Media
by Brady Baker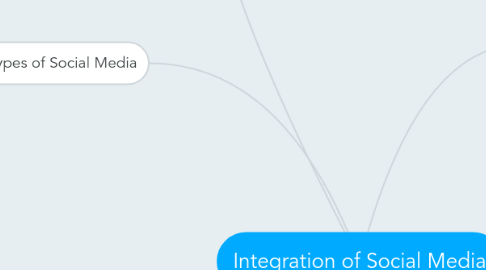 1. Types of Social Media
1.1. Twitter
1.1.1. Follow major Carriers for news updates. Share quick links for associates on important updates. Allow associates to improve their own knowledge and skills.
1.2. LinkedIn
1.2.1. Connect with mobile device producers. Connect with wireless network experts. Create a group for Connection Center Associates.
1.3. Facebook
1.3.1. Create a page for the Connection Center. Follow major Carriers' pages for information.
2. Connection Center Training
2.1. Purpose
2.1.1. All current associates will be trained on the new social media inclusion program. This will provide the benefits of social media in the workplace for associates. Associates will be able to better assist our customers in answering their questions and determining which services are best for them.
3. Adult Learning Theories
3.1. Active Learning
3.1.1. Utilizing role playing, scenarios and dialogue to engage learners. Problem solving exercises. Using the WARP (Phone activation system) training materials to practice completing contracts.
3.2. Problem Based Learning
3.2.1. Using role playing to determine the needs of the customer. What do we know? Where do we find the solutions? What would solve the problem in a desired manner?
4. Effects of Social Media
4.1. Growth
4.1.1. Personal
4.1.1.1. Increase personal knowledge about cellular networks and coverage. Be able to better assist customers with choosing wireless coverage. Increase skills with completing contracts. Make associate a better candidate for promotions.
4.1.2. Organizational
4.1.2.1. Will let customers know that we have knowledgeable staff than can help them with their needs. Will inform the community about sales, discounts and promotions. Will allow associates to connect with others and share information and knowledge
4.2. Communication
4.2.1. Will allow associates to connect with one another and experts in the field. Associates can connect with the community about sales, promotions, and discounts.
5. Ethical Considerations
5.1. Privacy
5.1.1. Company Perspective
5.1.1.1. There is information that is sensitive to the organization that needs to remain protected. Only share information that will help build associate knowledge.
5.1.2. Customer Perspective
5.1.2.1. Customer privacy is critical. Do not share personal or financial information with anyone. Only discuss credit checks, SSN, and other personal information with the customer. Any materials that are not needed, such as duplicate contracts, are shredded to protect customer privacy.
5.2. Responsibility
5.2.1. Be careful of what is posted. Posts will determine how customers and associates respond to you. Reputation online will be transferred to in-person communications. If online reputation is poor, in-person reputation will be affected.