THE EVOLUTION OF TECHNOLOGY IN THE CLASSROOM
by Elizabeth Quintanilla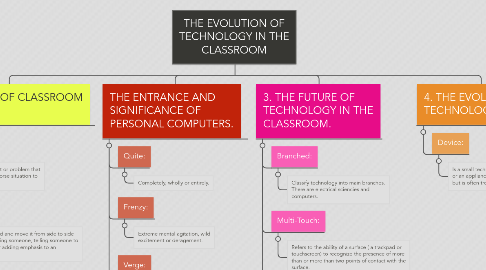 1. 1. A HISTORY OF CLASSROOM TECNOLOGY.
1.1. Spark:
1.1.1. A first small event or problem that causes a much worse situation to develop.
1.2. Wave:
1.2.1. To raise your hand and move it from side to side as a way of greeting someone, telling someone to do something, or adding emphasis to an expression
1.3. Range:
1.3.1. The period of time in the future within which something is planned or expected to happen.
2. 3. THE FUTURE OF TECHNOLOGY IN THE CLASSROOM.
2.1. Branched:
2.1.1. Classify technology into main branches. There are electrical sciencies and computers.
2.2. Multi-Touch:
2.2.1. Refers to the ability of a surface ( a trackpad or touchscreen) to recognize the presence of more than or more than two points of contact with the surface.
2.3. Hotbed:
2.3.1. A place something grows or develops easily. A place where something happens very commonly.
3. THE ENTRANCE AND SIGNIFICANCE OF PERSONAL COMPUTERS.
3.1. Quite:
3.1.1. Completely, wholly or entirely.
3.2. Frenzy:
3.2.1. Extreme mental agitation, wild excitement or deragement.
3.3. Verge:
3.3.1. The edge, rim, or margin of something.
4. 4. THE EVOLUTION OF TECHNOLOGY.
4.1. Device:
4.1.1. Is a small technological object such as a device or an appliance that has a particular function , but is often trough of as a novelty.