Gangsta Rap Music is popular with current generations of Australian adolescents and young adults, despite its promotion of violence and negative stereotyping of women. is this style of music simply 'the one' that divides a generation from their parents (in the same way punk or rock 'n' roll may have been previously), or should society be concerned with the messages delivered by this genre of music?
by Wynette A Hanna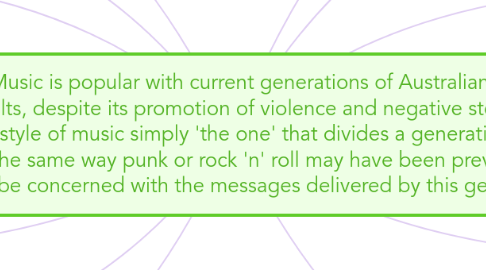 1. Influence of Gangsta Rap
2. What is Gangsta Rap?
2.1. Gangsta rap is a subgenre of hip hop music with a lyrical focus on the activities of illegal street gangs and reflects the violent lifestyles of inner-city youth.
3. Histry Of Gangsta Rap
4. Violence in Rap Culture
5. Popularity of Gangsta Rap
6. Vulgar Language in Rap Culture
6.1. Profanity includes Homophobic Slurs and word like; F*ck, Sh*t, B*tch, P*ssy, Ho, N-Word, D*ck, C*ck, G-Damn, Skeet, Tits, C*nt, and Ass.
6.2. Dr. Dre - Nuthin But A "G" Thang ft Snoop Doggy Dogg: "It's where it takes place so I'm a ask your attention/ Mobbin like a mothafucka but I ain't lynchin/ Droppin' the funky shit that's makin the sucka niggaz mumble"
7. Definition of Misogyny
7.1. dislike of, contempt for, or ingrained prejudice against women.
8. Misogyny in Hip Hop Culture
8.1. refers to lyrics, videos or other aspects of hip hop culture that support, glorify, justify, or normalise the objectification, exploitation, or victimisation of women.
8.2. It can range from innuendoes to stereotypical characterizations and defamations.
9. Satirical Misogyny
9.1. Horrorcore rapper Necro has made songs and videos ridiculing and satirizing misogyny in hip hop, which can be seen as taking a stand against such behavior.
10. Misogyny in Rap Videos
10.1. Nelly's music Video "tip Drill" was criticised for the negative portrayal and sexual objectification of African American women in the video which showed women in bikinis dancing and simulating various sexual acts, men throwing money at women's private parts, and Nelly swiping a credit card through a woman's buttocks.
11. Misogyny in Gangsta Rap Lyrics
11.1. Bitches ain't shit but hoes and tricks / Lick on these nuts and suck the dick / Get's the fuck out after you're done / And I hops in my ride to make a quick run. —Dr. Dre, "Bitches Ain't Shit"
11.2. Slut, you think I won't choke no whore / 'Til the vocal cords don't work in her throat no more?! / Shut up slut, you're causin' too much chaos. —Eminem, "Kill You"
12. Are women welcomed in Hip-Hop/Rap Culture?
12.1. Hip hop is a male dominated genre in which authenticity has been identified with masculinity. Female artists have traditionally faced many barriers in entering hip hop and have been marginalized as performers.
13. Women who challenged the Objectification and Exploitation of women in hip-hop culture
13.1. Salt-N-Pepa was one of the first all-female rap acts to provide pro-woman messages and critique double standards and degrading images of women in hip hop.
13.2. In her Grammy Award-winning song U.N.I.T.Y., Queen Latifah challenges male rappers who use the terms "bitch" and "ho" to refer to women.[62] She raps, "Every time I hear a brother call a girl bitch or ho. Trying to make a sister feel low, You know all of that's got to go."
14. Male Hip-Hop artists condemning Misogyny in hip-hop/ Rap
14.1. Many male rappers, especially those labeled as Political hip hop, have condemned misogyny in hip hop.
14.2. Paris raps in "Assata's Song" from the 1992 album Sleeping with the Enemy: "Thinkin' of you, and how the perception came to pass/ Of a Queen bein' just a piece of ass/ So I ask ya how that sounds/ It's for the sisters I missed the last time around/ Because I can't forget what ya been through/ Can't forget the hardships in what you do/ So I'm payin' you the ultimate respect/ Because I love you and that's what you should get."
14.3. Immortal Technique has condemned sexism numerous times. The track "Crossing the Boundary" from his 2003 album Revolutionary Vol. 2 starts with the line "I never make songs that disrespect women".