Medical Providers Struggle to Communicate With Immigrant Patients M2U4A2;SmithClass
by dorothy smith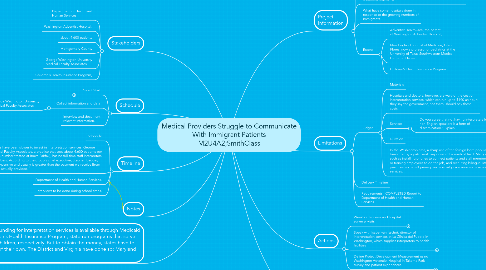 1. Stakeholders
1.1. Department of Health and Human Services
1.2. Washington Adventist Hospital,
1.3. about 4,600 patients
1.4. Montgomery County
1.5. George Washington University Medical Faculty Associates
1.6. Children's Health Insurance Program,
2. Notes
3. Project Information
3.1. Definition
3.2. As immigrant communities swell around the country, hospitals, clinics and health-care providers are increasingly confronted with language and cultural challenges that can discourage people from seeking care and lead to calamitous errors in diagnoses and treatment regimens.
3.3. What have some hospitals done in response to the growing numbers of immigrants
3.4. Extent
3.4.1. Adventist HealthCare, the parent of Washington Adventist Hospital,
3.4.2. New England Journal of Medicine, Glenn Flores, now a professor of pediatrics at the University of Texas Southwestern Medical Center at Dallas
3.4.3. Children's Health Insurance Program
4. Schedule
4.1. Project Start
4.1.1. Project specifications
4.1.2. End User requirements
4.1.3. Action points sign-off
4.2. Collect information and data
4.2.1. George Washington University Medical Faculty Associates
4.3. interview and document relevant information.
5. Timeline
5.1. Schedule
5.2. ther health-care organizations have been slower to invest in interpretation services. George Washington University Medical Faculty Associates, a practice that sees about 4,600 patients per day (more than five times the number treated at Inova Fairfax), has no full-time staff interpreters but a few bilingual staff members. According to the group's chief executive, Stephen Badger, "The cost of interpreters is expensive and usually is greater than the payment we receive [from Medicaid] for the health care actually provided."
5.3. Department of Health and Human Services.
5.4. Interviews to be done during school times.
6. Limitations
6.1. Budget
6.1.1. Materials
6.1.2. Hospitals and doctors, however, are wary of the cost of interpretation services, which can run up to $190 an hour; they say the government, not them, should pay these costs.
6.1.3. Services
6.1.3.1. Do you agree that not having interpreters for non-English speakers is a form of discrimination? Explain...
6.1.4. Duration
6.1.5. In the Washington area, a sharp rise of the foreign-born population in the past two decades has been met by a patchwork response in the medical field. Many area hospitals have taken steps such as installing phones to connect patients and staff members to interpreters, hiring interpreters or training employees to do the job, and recruiting bilingual staff. But some large physician practices and small primary and specialty care services have not added language or cultural services.
6.2. Delivery Timeline
6.3. Requirements : COMPLETED Report to Department of Health and Human Services
7. Actions
7.1. Weekly interviews and hospital surveys/ visits
7.1.1. Dependencies
7.1.2. Milestones
7.2. Speak with Isabel van Isschot, director of interpretation services at La Clinica del Pueblo in Washington, which supplies interpreters to health facilities
7.2.1. Schedule
7.2.2. Budget
7.3. Define Project Development Measurement using Washington Adventist Hospital in Takoma Park survey and patient experiences.
7.3.1. KPI's
8. Some federal funding for interpretation services is available through Medicaid and the Children's Health Insurance Program, state-run programs that serve the poor and children, respectively. But to obtain the money, states have to pitch in some of their own. The District and Virginia have done so; Maryland has not.
9. Quotes and title from article y Eliza Barclay -- Kaiser Health News Tuesday, April 21, 2009 – The Washington Post