Physical Education/Health Standard for Middle School Students: Explain the components of health-related fitness; strength, flexibility, cardiovascular endurance.
by Sam Karpeles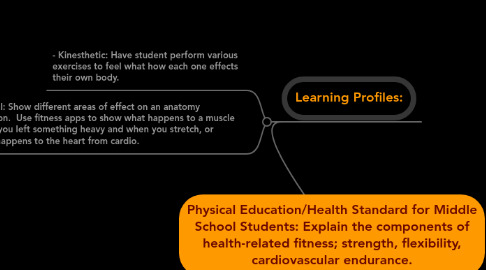 1. Learning Profiles:
1.1. - Kinesthetic: Have student perform various exercises to feel what how each one effects their own body.
1.2. - Visual: Show different areas of effect on an anatomy skeleton. Use fitness apps to show what happens to a muscle when you left something heavy and when you stretch, or what happens to the heart from cardio.
2. Interests
2.1. - Doesn't enjoy physical activity: Use relatable material like the nerd fitness app or swole.com. These apps are geared towards sedentary individuals. Provide fun ways for the student to participate in physical activities.
2.2. - Loves fitness and physical activity: Provide the student with more challenging objectives. Have them try and memorize as many muscles and their locations as they can.
3. Readiness Levels
3.1. - Novice: Have them work in small groups and discuss the three categories together. Have them determine only one activity for each category.
3.2. - Advanced: Have them teach the class an exercise or activity they enjoy. Have them dissect a case study on exercise and determine which category the person needs to focus on.