Are health and fitness support student academic?
by Abdullah almarar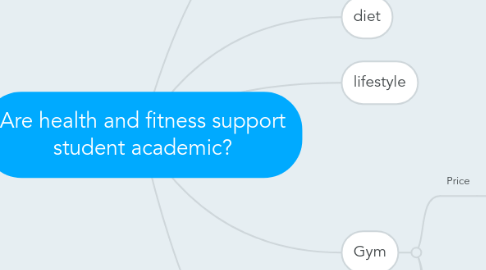 1. Affect
1.1. Do you think that our health can afeect on our grades?
1.1.1. Can you explain?
1.2. Isthere a link between health and fitness with the grades?
2. cafateria
2.1. Healthy food
2.1.1. Is there healthy food in the cafeteria?
2.1.1.1. Yes,No
2.2. unhealthy food
2.2.1. Any example of an unhealthy food that sell in the cafeteria?
2.3. Price
2.3.1. What about the price of the food?
2.3.1.1. 30%,50%,70%,80%,100&
2.4. Place
2.4.1. Is the place excellent or need to make it better?
2.4.1.1. Yes,No
2.5. What do you think about the cafeteria?
3. Gym
3.1. Price
3.1.1. Should we pay for the gym?
3.1.1.1. Why?
3.1.1.2. Why not?
3.1.2. What do you think about the price?
3.2. Time
3.2.1. Should we put a lesson for the gym with the schedule?
3.2.2. How many days do you think to keep the gym open?
3.3. Place
3.3.1. Is the gym size is good or need to improve it?
3.3.1.1. 20%,50%,70%,80%
4. diet
5. lifestyle