Properties
by Natalie Doan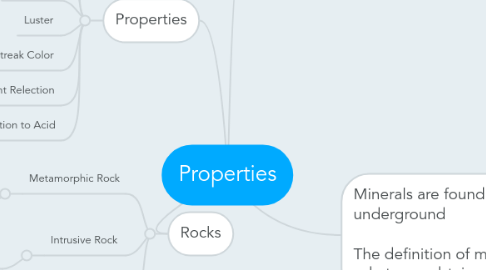 1. Rocks
1.1. Metamorphic Rock
1.1.1. Heat and pressure can cause the rock to undergo physical and chemical changes, this causes the rock to be a metamorphic rock.
1.2. Intrusive Rock
1.2.1. When the magma cools below the surface, intrusive igneous rocks such as diorite and granite will form.
1.3. Sedimentary Rock
1.3.1. Sediments settle and can become a sedimentary rock.
2. Minerals are found deep down underground The definition of minerals is a substance obtained by mining
2.1. Geologists
2.2. Minerals
2.2.1. Diamonds
2.2.2. Quartz
2.2.3. Gold
2.2.4. Fluorite
2.2.5. Halite
2.2.6. Silver
2.2.7. Calcite
3. Mohs Hardness Scale (On a Scale of 1-10)
3.1. Diamonds - 10 -> Hardest
3.2. Corundum - 9
3.3. Topaz - 8
3.4. Quartz - 7
3.5. Orthoclase - 6
3.6. Aptite - 5
3.7. Fluorite & Platinum - 4
3.8. Calcite & Native Copper & Silver - 3
3.9. Gypsum - 2
3.10. Talc & Graphite - 1
4. Properties
4.1. Crystalline Structure
4.2. Color
4.3. Hardness
4.4. Luster
4.5. Streak Color
4.6. Light Relection
4.7. Reaction to Acid