WHAT SHALL I USE? MAKE OR DO ?
by Jenny Hernandez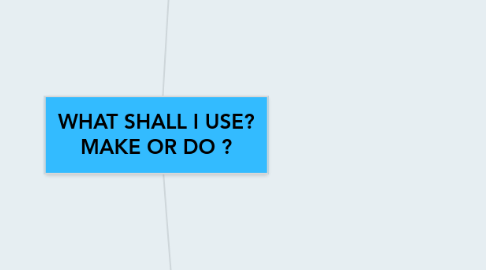 1. "MAKE"  TO BUILD, AND CREATE: make "" the verb is used "to express something you're building or creating (but not an activity)
1.1. The verb make meaning "to manufacture, develop, produce or create something with your hands." Therefore, we can intuit that make is used to refer to the construction, development and production. It is also used to make decisions, to say that something produces a sound, for food preparation, among others.
1.2. Present
1.2.1. Make / Makes
1.3. Gerund
1.3.1. Making
1.4. Participle
1.4.1. Make
1.5. Past
1.5.1. :Made
1.6. List to Make
1.7. Cook
1.7.1. Make a cup of tea
1.7.2. Make breakfast
1.7.3. Make lunch
1.7.4. Make dinner
1.7.5. Make some bread
1.8. Creation or development
1.8.1. Make a film
1.8.2. Make a jacket
1.9. Verbal communication or sounds
1.9.1. Make a commen
1.9.2. Make a speech
1.9.3. Make a phone
1.9.4. Make a phone call
1.9.5. Make a joke
1.10. Decisions
1.10.1. Make up your mind
1.10.2. Make a choice
1.10.3. Make a decision
1.11. Intangibles
1.11.1. Make a plan
1.11.2. Make an arrangement
1.11.3. Make an appointment
1.11.4. Make and effort
1.11.5. Make a suggestion
1.12. Others
1.12.1. Make the bed
1.12.2. Make a journey
1.12.3. Make a visit
1.12.4. Make friends
1.12.5. Make a move
1.12.6. Make a mess
2. "DO" FOR ACTIVITIES: The use of the verb "do" is to express daily work activities or routine tasks.
2.1. The verb do means "do" and is generally used for operations or work. Do is used to talk about work, tasks, actions and activities.
2.2. Present
2.2.1. Do/does
2.3. Gerund
2.3.1. Doing
2.4. Participle
2.4.1. Done
2.5. Past
2.5.1. Did
2.6. DO LIST WITH
2.7. Jobs
2.7.1. Do business
2.7.2. Do homework
2.7.3. Do the housework
2.7.4. Do a job/work
2.8. Homework
2.8.1. Do the cooking
2.8.2. Do the shopping
2.8.3. Do the ironing
2.8.4. Do the washing-up
2.8.5. Do your hair
2.9. General
2.9.1. Do anything
2.9.2. Do something
2.9.3. Do nothing
2.9.4. Do everything
2.10. behavior
2.10.1. Do your best
2.10.2. Do well
2.10.3. Do good