THE SIMPLE PAST
by katherine solange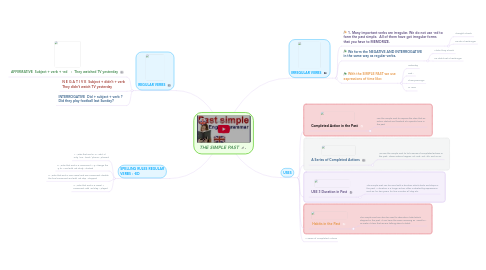 1. REGULAR VERBS
1.1. AFFIRMATIVE Subject + verb + -ed : They watched TV yesterday
1.2. N E G A T I V E Subject + didn't + verb They didn't watch TV yesterday
1.3. INTERROGATIVE Did + subject + verb ? Did they play football last Sunday?
2. IRREGULAR VERBS
2.1. 1. Many important verbs are irregular. We do not use -ed to form the past simple. All of them have got irregular forms that you have to MEMORIZE.
2.1.1. I bought a book.
2.1.2. He ate a hamburger.
2.2. We form the NEGATIVE AND INTERROGATIVE in the same way as regular verbs.
2.2.1. I didn't buy a book
2.2.2. He didn't eat a hamburger
2.3. With the SIMPLE PAST we use expressions of time like:
2.3.1. Yesterday
2.3.2. Last...
2.3.3. Thow years ago
2.3.4. In 1989
3. SPELLING RULES REGULAR VERBS : -ED
3.1. 1. Verbs that end in -e : add -d only live - lived / phone - phoned
3.2. 2. Verbs that end in a consonant + -y: change the -y to -i and add -ed study - studied
3.3. 3. Verbs that end in one vowel and one consonant: double the final consonant and add -ed stop - stopped
3.4. 4. Verbs that end in a vowel + consonant: add -ed Play – played
4. USES
4.1. Completed Action in the Past
4.1.1. Use the Simple Past to express the idea that an action started and finished at a specific time in the past
4.2. A Series of Completed Actions
4.2.1. We use the Simple Past to list a series of completed actions in the past. These actions happen 1st, 2nd, 3rd, 4th, and so on.
4.3. USE 3 Duration in Past
4.3.1. The Simple Past can be used with a duration which starts and stops in the past. A duration is a longer action often indicated by expressions such as: for two years, for five minutes, all day, etc.
4.4. Habits in the Past
4.4.1. The Simple Past can also be used to describe a habit which stopped in the past. It can have the same meaning as "used to." To make it clear that we are talking about a habit
4.5. A Series of Completed Actions