INFORMATION PROCESSING SYSTEM
by Tammy Hernandez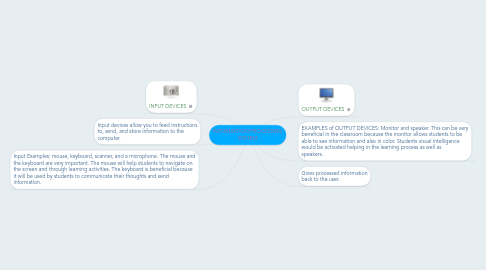 1. OUTPUT DEVICES
2. INPUT DEVICES
3. Input devices allow you to feed instructions to, send, and store information to the computer.
4. Input Examples: mouse, keyboard, scanner, and a microphone. The mouse and the keyboard are very important. The mouse will help students to navigate on the screen and through learning activities. The keyboard is beneficial because it will be used by students to communicate their thoughts and send information.
5. EXAMPLES of OUTPUT DEVICES: Monitor and speaker. This can be very beneficial in the classroom because the monitor allows students to be able to see information and also in color. Students visual intelligence would be activated helping in the learning process as well as speakers.
6. Gives processed information back to the user.