Activity 1: Planning for Learning for Learning by Sean Calabrese
by sean calabrese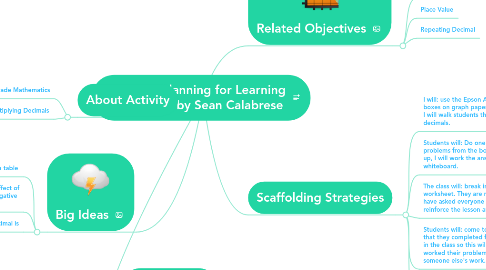 1. About Activity
1.1. 6th Grade Mathematics
1.2. Standard 6.2.2: Multiplying Decimals
2. Big Ideas
2.1. Mastery of basic multiplication table
2.2. Understanding the effect of multiplying 1 or 2 negative numbers
2.3. Identify What a Decimal is
3. Scaffolding Strategies
3.1. I will: use the Epson Arm Projector to display my graph paper (the boxes on graph paper make it neater when multiplying decimals). I will walk students through solving a multiplication problem with decimals.
3.2. Students will: Do one of the "Check Your Understanding" problems from the book, as independent work. Once the time is up, I will work the answer out while projecting work onto the whiteboard.
3.3. The class will: break into groups of 3 and begin working on a worksheet. They are not allowed to ask me questions unless they have asked everyone in the class first. This forces the students to reinforce the lesson and "teach" it to their peers.
3.4. Students will: come to the board and work out one problem each that they completed from the worksheet. There are only 6 students in the class so this will not take a long time. Once they have all worked their problems out, I will assign each of them to check someone else's work.
3.5. Types of Scaffolding used: Examples, Explanations, Handouts, and Hints .
4. Related Objectives
4.1. What a decimal is
4.2. Place Value
4.3. Repeating Decimal
5. Key Factors
5.1. The depth of their knowledge of the 0-9 times tables
5.2. Rounding Decimals
5.3. Ability to add numbers 0-9 quickly and correctly