Student Retention and Effective Strategies for Completing a Degree Program -JP Eltringham
by Justin Eltringham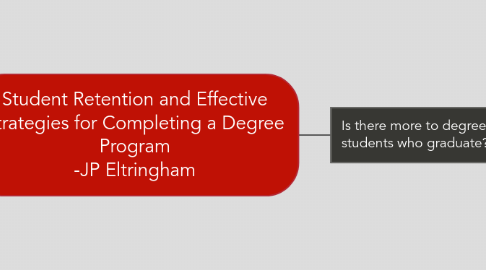 1. Is there more to degree programs than a piece of paper for students who graduate?
1.1. Degree Program Pros
1.1.1. Better understanding of chosen career field
1.1.2. Accreditation for future employment opportunities
1.1.3. Faster growth track
1.2. Degree Program Cons
1.2.1. Financial debt
1.2.2. Lack of work experience
1.2.3. Stress
1.3. Career Field Knowledge
1.3.1. Focus on the real world goals
1.3.2. Translate learned material into usable career knowledge
1.3.3. Maintain sense of purpose for the studies
1.3.4. Use learned knowledge in career oriented situations
1.3.5. Explore whole topics surrounding learned material for a holistic knowledge base
1.3.6. Find internships or other jobs relevant to your career goals in which you can gain more work experience and put your knowledge to practical use
1.4. Retention Strategies
1.4.1. Acronyms
1.4.2. Using your own words
1.4.3. Relate to everyday life
1.4.4. Tutoring
1.4.5. Words to pictures
1.5. Study Habits
1.5.1. Study groups
1.5.2. Scheduled study time
1.5.3. Controlled study habitat
1.5.4. Spread out studying
1.6. Conclusion
1.6.1. Although many students still don't fully understand the importance of their classes, there is much more to degree programs as all students should strive to thrive in their chosen career field rather than just getting by. Most students will agree that they are in school to not only learn but retain information to be used in their career field
1.7. References
1.7.1. Carroll, D., Ng, E., & Birch, D. (2013). Strategies to improve retention of postgraduate business students in distance education courses: An australian case. Turkish Online Journal of Distance Education, 14(1), 140-153.
1.7.2. Heen, E. M. (2010). Teaching unprepared students: Strategies for promoting success and retention in higher education â€" by kathleen F. gabriel. Teaching Theology and Religion, 13(1), 73-75. doi:10.1111/j.1467-9647.2009.00579.x
1.7.3. Buvoltz, K. A., Powell, F. J., Solan, A. M., & Longbotham, G. J. (2008). EXPLORING EMOTIONAL INTELLIGENCE, LEARNER AUTONOMY, AND RETENTION IN AN ACCELERATED UNDERGRADUATE DEGREE COMPLETION PROGRAM. New Horizons in Adult Education & Human Resource Development, 22(3), 26-43.