Chapter 1 Technical and Professional Communication in the Workplace
by
Tana Ingram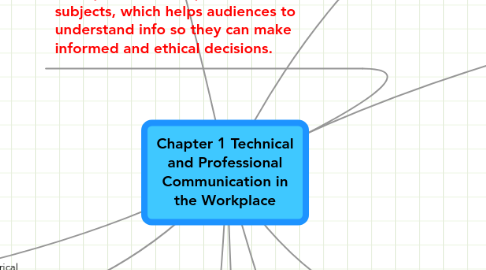 0.0
stars - reviews range from
0
to
5
Chapter 1 Technical and Professional Communication in the Workplace
Technical and Professional Communication is: communication about coomplex, detailed problems, issues, or subjects, which helps audiences to understand info so they can make informed and ethical decisions.
Genres
E-mails and Memos
Letters
Job Search Documentation
Technical Definitions
Technical Descriptions
Websites
Technical instructions
Manuals
Proposal and requests for proposals
Informal reports
formal reports
Presentations
Characteristics
Rhetorical
Audience Centered
Technology Oriented
Ethical
Research Oriented
Professional
Visual
Design Centered
Concise
Process
Planning
Researching
Organizing
Drafting
Designing
Integrating Visuals
Revising
Rewriting
Editing
Testing
Problem Solving
Workplace Problem
Rhetorical Problem
always more than one way to solve a problem
Chapter 3 Technical Communication and Electronic Technologies
The impact of technology has been great as it creates new opportunities and new challenges for transnational communication. It is important for workplace writers to keep up with technological advances that affect the production and distribution of documents.
Creating Documents
Communicating and Collaborating
Ethics and Electronic Communication
Edward R. Murrow - "...we are still left with the same problem of communicating effectively, clearly and appropriately
In the Future?
Chapter 4 Ethics and the Workplace Writer
Ethics
about right and wrong
Chapter 5 Technical Communication in a Transnational World
technoclogical advances open the lines of communication, global economy, communicating with transnational and transcultural audiences
Learning about Differences
Avoiding Stereotypes
Ethical and responsible workplace writers must be diligent in develpoing accurate understandings of there transnational audiences
Enhancing Translation
the responsibilty of  most workplace wrtiers is not to translate documents but to prepare documents that can accomodate translation
Ways to accommodate Transnational audiences
Transnational Ethics
ethical understandings don't always cross borders
Guidelines for Writing for Transnational Audiences
Chapter 7 Organizing and Drafting Documents
order in which info presented can be crucial, this is why organizing and drafting are so important
Predrafting strategies
Writing the Draft