Exploring Younger Generations'Cyber Femnist Activism: The 20th February Mouvement as a Case Study
by Rachida Nasri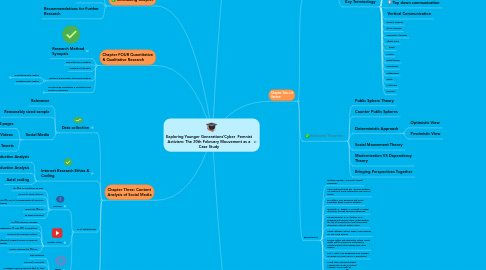 1. Chapter One: Context & Background
1.1. 1. Country Profile
1.2. 2. Women's Right in Morocco
1.2.1. From 2004 to 2011
1.2.2. From 2011 to 2016
1.3. 3. 20th FM
1.4. 4. Internet
1.4.1. Infrastructure & Dev in Morocco
1.4.2. Web 1
1.4.3. Web 2
1.4.3.1. Advs
1.4.3.1.1. Citizen Journalism
1.4.3.1.2. Decentralisation of Information & Communication
1.4.3.1.3. Intersecting multiple media (e.g. audio, video, hyperlinks)
1.4.3.2. Disadvs
1.4.3.2.1. noisy inf
1.4.4. Digital immigrants vs Digital Natives
1.4.5. SNSs
1.4.5.1. Facebook
1.4.5.2. Youtube
1.4.5.3. Twitter
2. Chapter Two: Lit Review
2.1. Introduction
2.1.1. Purpose of Surveying Literature
2.1.2. Key Terminology
2.1.2.1. Public Sphere
2.1.2.2. Private sphere
2.1.2.3. Digital age
2.1.2.4. Subaltern
2.1.2.5. Counterpublic spheres
2.1.2.6. A social network
2.1.2.7. Bottom-up communication
2.1.2.8. Horizontal communication
2.1.2.9. Top down communication
2.1.2.10. Vertical Communication
2.1.2.11. Western Feminism
2.1.2.12. Islamic Feminism
2.1.2.13. Community of Practice
2.1.2.14. Affinity space
2.1.2.15. Frame
2.1.2.16. Leaders
2.1.2.17. Digital literacy
2.1.2.18. Commitment
2.1.2.19. Collaboration
2.1.2.20. Civility
2.1.2.21. A collective
2.1.2.22. Discourse
2.2. Relevant Theories
2.2.1. Public Sphere Theory
2.2.2. Counter Public Spheres
2.2.3. Deterministic Approach
2.2.3.1. Optimistic View
2.2.3.2. Pessimistic View
2.2.4. Social Mouvement Theory
2.2.5. Modernization VS Dependency Theory
2.2.6. Bringing Perspectives Together
2.3. Researched Lit
2.3.1. Matthew Hindman. The Myth of Dgital Democracy
2.3.2. Sarita Yardi and Danah Boy. Dynamic Debates: An Analysis of Group Polarization over Time on Twitter
2.3.3. Eric Gilbert, Tony Bergstrom and Karrie Karahalios. Blogs Are Echo Chambers
2.3.4. Macintosh, A., Malina, A., & Farrell, S. Digital democracy through electronic petitioning.
2.3.5. Panagiotopoulos, P., & Al-Debei, M. M.. Engaging with citizens online: Understanding the role of ePetitioning in local government democracy. Internet, politics, policy
2.3.6. Hanna Lehtonen. SOCIAL MEDIA AND WOMEN OF THE ARAB SPRING
2.3.7. Zeynep Tufekci and Christopher Wilson."Social Media and the Decision to Participate in Political Protest: Observations From Tahrir Square"
2.3.8. Sara L. Lekas. THE EMERGENCE OF WOMEN LEADERS IN CAIRO, EGYPT. A Dissertation
2.3.9. Souad Slawi. How Much Digital Activism Plays a Role in Political Activism: A Case Study of Morocco's February 20th Movement.
2.3.10. Houda Abadi. Gendering the February 20th Movement: Moroccan Women Redefining: Boundaries, Identities and Resistance.
2.3.11. Paige I. Ambord. The Moroccan Example: "Coming Movements," Communities, and Lived Experience in Contemporary Protest
3. Concluding Chapter
3.1. Summary of Findings
3.2. Limitations
3.3. Recommendations for Further Research
4. Introductory Chapter
4.1. Scope & Significance
4.2. Objectives
4.2.1. Conciliate conflicting strands of literature
4.2.2. Bridge some gaps in prior lit
4.2.3. Redefine Political Participation & who take initiatives to promote Women's Rights
4.2.4. Test the mobilizing effect of Social Media
4.2.5. Elucidate tactics, leadership style & challenges for online activism
4.3. Research Qs
4.3.1. To what extent 20th FM figure out gender issues?
4.3.2. What pressing issues addressed online?
4.3.3. How online activism function?
4.3.4. Is communication within online space deliberative?
4.3.5. What implications of such activism on women's rights legislation?
4.4. Hypotheses
4.4.1. 20th February movement figures out gender issues as a prerequisite for promoting women's human rights
4.4.2. Positive correlation between youths' cyber activism and promoting women's rights
4.4.3. No consensus as to model of feminism aspired for.
4.5. Methodology
4.5.1. Quantitative
4.5.2. Qualitative
4.6. Layout
5. Chapter FOUR Quantitative & Qualitative Research
5.1. Research Method Synopsis
5.2. Data Collection Procedures
5.3. Sampling of Informants
5.4. Analysis & Interpretation of Research Findings
5.4.1. Quantitative Data Analysis
5.4.1.1. s
5.4.2. Qualitative Data Analysis
5.5. Corroborating Quantitative & Qualitative Data Results & Implications
5.5.1. ta Results &
6. Chapter Three: Content Analysis of Social Media
6.1. Data collection
6.1.1. Relevance
6.1.2. Reasonably sized sample
6.1.3. Social Media
6.1.3.1. FB pages
6.1.3.2. YouTube Videos
6.1.3.3. Tweets
6.2. Internet Research Ethics & Coding
6.2.1. Inductive Analysis
6.2.2. Deductive Analysis
6.2.3. Axial coding
6.3. CA of Selected SNSs
6.3.1. FB Pages
6.3.1.1. The 20th FM Casablanca FB Page
6.3.1.2. We are all Amina Filali FB P
6.3.1.3. The 20th FM for the Emancipation of Moroccan women
6.3.1.4. Against the 20th FM
6.3.1.5. FB Pages Compared
6.3.2. YouTube Videos
6.3.2.1. The 20th February Campagn
6.3.2.2. Manifestation 12 June 2011 in Casablanca
6.3.2.3. No Excuse for Domestic Violence
6.3.2.4. Suffering of Pregnant Women in Moroccan Hospitals
6.3.2.5. AVideo Criticizing the 20th FM
6.3.3. Tweets
6.3.3.1. Data Collection
6.3.3.2. We are all Amina Filali
6.3.3.3. Soulalyate Women in Morocco fight for their Landrghts and get them
6.4. Findings & Interpretation
6.5. Limitations & Recommendations for Future Research