LeSS (Large-Scale Scrum)
by
Viktor Grgic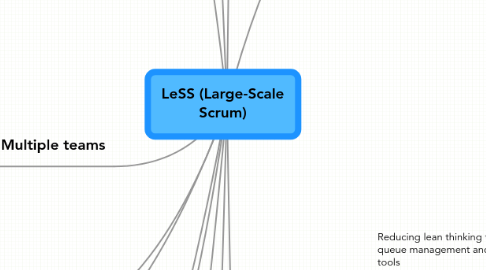 0.0
stars - reviews range from
0
to
5
LeSS (Large-Scale Scrum)
Systems thinking
Master complexity of dynamics instead of static details
Casual loop diagrams
Root cause tools
Measurement dysfunction
Secret developer toolbox
Organisation redesign
How to transition into cross-functional?
Cross-component, not component teams
Self-management
Avoid...projects in product development
Communities of Practice
Top-down and Bottom-up approach
Seeing the whole
Lean
Reducing lean thinking to kanban, queue management and other tools is like reducing a working democracy to voting.
Toyota's real advantage was its ability to harness the intellect of 'ordinary' employees.
Principles
Queueing Theory
Re-use info and knowledge
Wiki
Design Patterns
Team
Advantages
Team as org. building block
Architecture and design
Set-based design (exploring several alternatives)
Design workshop
Agile Modelling
Writing code
No locking in version control
Continuous Integration
Trunk based development
TDD
Evolutionary Design
Shared code ownership
Multiple teams
Working agreements
Requirements area
Tools
Avoid traditional requirement management tools
Avoid tools optimized for reporting
Scrum Scaled Up
LeSS basic
LeSS huge
LeSS ScrumMaster
Product Owner in LeSS
Timeboxing
Multisite
Colocate entire requirement area? Yes and No!
Type of development
Product (external customer)
Internal (IT department)
Project (outsourcer)